French Business Mood Plunges by Record on Virus Shutdown
French business confidence plunged at a record pace in March as shutdowns to contain the coronavirus have left the economy running at 65% of normal activity.
The drop mirrors that seen in Germany in figures earlier this week, where the Ifo Institute said sentiment dropped at the fastest pace since reunification.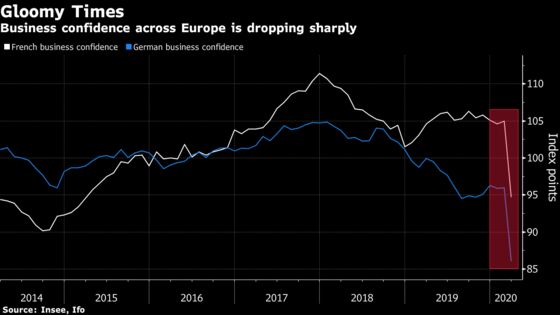 The French index fell to 95 from 105 in March, statistics office Insee said Thursday. The 10-point drop is the largest in the history of the series and was bigger than economists had anticipated.
French President Emmanuel Macron has put the country in lockdown in an effort to contain the spread of the virus. To cushion the economic impact, the government has announced 45 billion euros ($49 billion) of spending to avoid job losses and bankruptcies.
The indicator in industry fell only three points in March, while services dropped 14 points and retail 13 points. The outlook for activity in every sector slumped.
Insee warned there will be worse to come as most of the responses in its surveys predate the closing of French schools on March 16.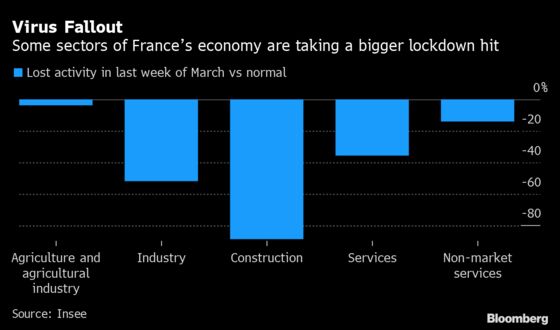 To get a better real-time estimate of the economic impact, Insee used quantitative and qualitative data from the government and business groups to estimate that the French economy -- as well as consumer spending -- are currently running at 65% of normal activity.
The statistics agency also estimated that a month of confinement would take 12 percentage points off quarterly gross domestic product and three percentage points for the year.
In Germany, consumer confidence plummeted to its lowest level since the financial crisis. GfK, which compiles the index, said it can't predict how consumption will develop until Europe's largest economy gets back to normal.