France Manufacturing Confidence Falls as Brexit Warnings Grow
(Bloomberg) -- Confidence among French manufacturers fell this month to the lowest in almost two years, a potential sign of weakness heading into the final quarter of the year.
The decline in sentiment came as the government warned companies to begin preparing for all Brexit scenarios, including no deal between the European Union and the U.K. The measure fell to 104 from 107, the weakest since November 2016. A broader index for business also slipped.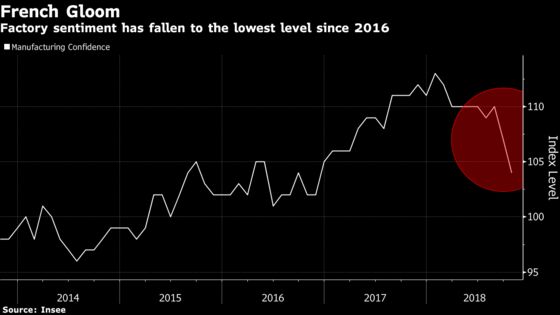 At a closed-door meeting at the finance ministry on Tuesday evening, Secretary of State Agnes Pannier-Runacher recommended business leaders start identifying measures to limit the impact.
France hopes efforts to reach a deal will be successful, but "there's little time left," Pannier-Runacher said. "It is therefore our collective responsibility to prepare for all eventualities."
The French government is particularly concerned that small businesses are not prepared for Brexit. Around a quarter of France's 120,000 exporters ship goods to the U.K., and customers of British service providers could also be impacted. Still, the government has no estimation of the potential costs to businesses and hasn't pledged any financial aide for struggling companies, according to the ministry.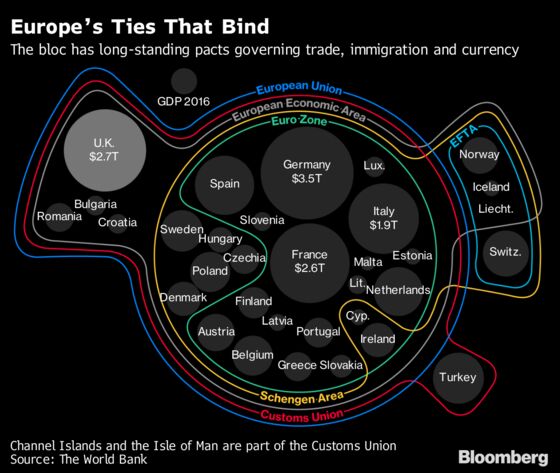 In a booklet distributed at Tuesday's meeting, the government lists examples of measures companies may need to take after assessing their exposure. They include:
Contact British and French authorities to get information on how to ensure mobility of employees
Diversify suppliers and adapt distribution to take into account new customs procedures
Renegotiate contracts with U.K. suppliers to allow for customs duties
Repatriate activities to the EU, depending on sectors
Change intellectual property rights to designate the U.K. as a separate entity
Repatriate personal data stocked in Britain and check where suppliers process or stock data
Request transfer of financial contracts to entities in the EU