France's Recovery Put in Doubt by Shrinking Manufacturing
(Bloomberg) -- French manufacturing unexpectedly contracted in August after a two-month rebound, a setback that will raise questions about the true state of the economy and the need for more stimulus.
A Purchasing Managers' Index dropped below the crucial mark of 50, weaker than every forecast in a Bloomberg survey, and a gauge for services indicated only modest growth. A measure for both industries declined to 51.7 from 57.3 in July.
The euro dropped after the report and traded at $1.1841 at 9:23 a.m. Paris time.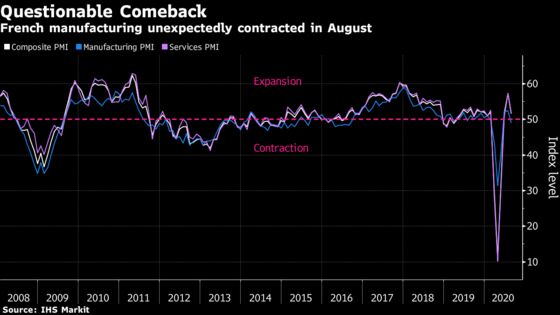 The numbers add to evidence that economic momentum in France and across the wider euro area has slowed recently, after the end of lockdowns propelled activity in June and July. European Central Bank officials were skeptical at their last meeting about whether activity would continue to pick up, and delayed passing judgment until fresh projections are available next month.
French factories saw orders decline in August and they continued to cut jobs. Confidence about the outlook eased.
"Growth momentum has somewhat stuttered," said Eliot Kerr, an economist at IHS Markit. "The results highlight the fragility of demand conditions faced by French businesses and cast further doubt over the V-shaped recovery that many had hoped for."
France, along with a number of other euro-area countries, is grappling with a resurgence of the pandemic. While officials have tightened measures to curb the spread of the virus, they're reluctant to resort to the economy-crushing closures imposed during the initial peak of the crisis in March and April.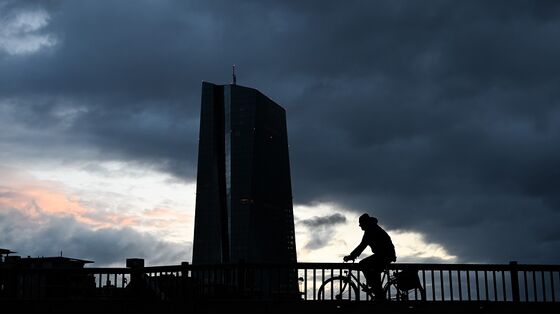 "We cannot shut down the country, because the collateral damage of confinement is considerable," French President Emmanuel Macron said in an interview with Paris Match magazine ahead of a meeting with German Chancellor Angela Merkel on Thursday. France reported 4,771 new infections, the largest increase since mid-April.