EU Recovery Logjam Publicly Slammed by Le Maire as G-20 Meets
The European Union's rollout of its recovery fund has lost so much urgency that French Finance Minister Bruno Le Maire is raising the alarm at the risk delay poses to the region's rebound from the pandemic.
The 750 billion-euro ($890 billion) plan is "not on the right track," he told Francine Lacqua in a Bloomberg Television interview marking Wednesday's Group of 20 meeting, adding that he's "deeply concerned" at slow implementation of an initiative first agreed in July last year.
"If we want a strong economy, we need to invest, and invest right now," Le Maire said. "The key point is to have a quick EU recovery and have the plan implemented as soon as possible."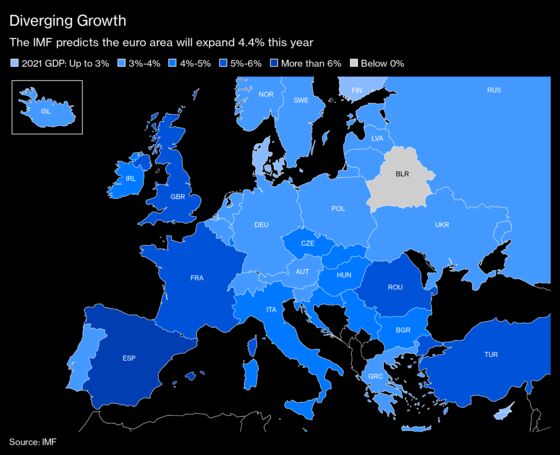 The remarks suggest a public escalation of worries in some European capitals at progress on a measure intended to be a gamechanging fiscal tool to fuel the region's economic pickup by jointly issuing debt. Ratification of that fundraising has been patchy however, and in Germany it is even blocked pending a court ruling.
"We are in April 2021, and once again I have not seen any single penny, and the decisions on the own resources have not been ratified by the 27 member states," Le Maire said.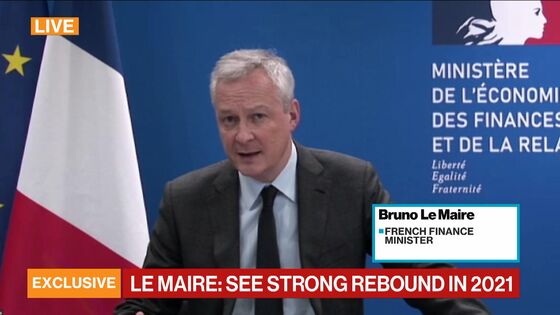 Recovery-fund spending plans also face convoluted bureaucracy from the EU, whose botched vaccine rollout already led to extended virus restrictions.
Mounting concern that the region's economy is lagging other industrialized nations was further fueled by the International Monetary Fund's forecasts on Tuesday, which highlighted increasingly diverging outlooks as the U.S. economy looks to shake off the coronavirus crisis faster than Europe.
While the Washington-based fund raised its growth forecast for the euro region this year slightly to 4.4%, that rebound is being quickly outpaced across the Atlantic. IMF officials now reckon U.S. expansion will amount to 6.4%.
What Bloomberg Economics Says...
"The EU needs to accelerate the implementation of its roughly 700- billion-euro Recovery and Resilience Facility. This is small in comparison with the $1.9 trillion of fiscal stimulus package in the U.S. and different in nature, but it's still important."

-Jamie Rush, Maeva Cousin and David Powell. For the full note, click here
European Central Bank officials have also shared concern at the possibility of delay in the EU stimulus tool, which isn't scheduled to hand out money until at least June. While not directly comparable, the $1.9 trillion U.S. fiscal package is already being disbursed.
Le Maire suggested that the EU governments are showing less resolve on the recovery fund than they first did when it was agreed upon last year.
"I just want to urge all the European member states to come back to the spirit of 2020 and to reignite the impulse that we have been able to give to the European recovery in 2020," he said. "Let's come back to this spirit of solidarity, of determination, of willingness to have a quick economic recovery everywhere in Europe."