France Lauds State Aid Plan as Post-Crisis Model for Europe
(Bloomberg) -- France finally unveiled its long-awaited plan for using state aid to prevent a wave of bankruptcies in the nation after the pandemic, hailing it as a model for the rest of Europe.
The innovative program, which has now been approved by the European Union, will combine private and public money to provide as much as 20 billion euros ($24 billion) to strengthen the finances of small and medium-sized companies.
The so-called participative loans adopt some of the advantages of equity and debt and are a central plank of President Emmanuel Macron's stimulus. They are also a test case for other European governments looking for ways to keep businesses afloat when they start withdrawing their extraordinary fiscal aid.
"In terms of power and amount, this increase in private capital will be unprecedented in Europe," French Finance Minister Bruno Le Maire said as he presented the plan in Paris. "It is an increase in capital that should be a model for other European countries so that the recovery isn't just at a national level but also in other states."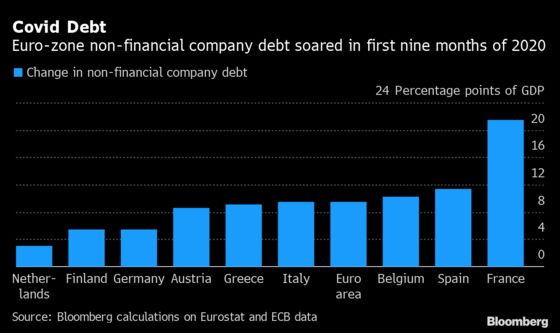 French banks will offer the loans, but pass 90% on to investment vehicles funded by private investors. Investment funds also lend subordinated bonds directly to larger companies. The state will guarantee as much as 30% of the first losses of the funds' portfolios.
Because the guarantee counts as state aid, the European Commission had to give approval. It announced that on Thursday, saying the loans and bonds must be issued before June 30, 2022; be used to finance investments and not pre-existing debt; and have a maturity of 8 years with a 4-year grace period on principal repayments.
Banks will decide the interest rates on a case by case basis, but Le Maire said they should be between 4% and 5% for the smallest companies
Philippe Brassac, chief executive of Credit Agricole SA and chairman of the French banking federation, said at the presentation that banks aimed to support between 7,000 and 10,000 companies with the participative loans. Private equity funds also aim to provide subordinated loans to 2,500 companies.
Several EU countries have contacted the French National Treasury to find out more about the plan, according to a French official who could not be named as she is not authorized to speak about the deliberations. Spain is considering a similar proposal.
The European Commission considered rolling out a solvency-support instrument during last summer's tortuous negotiations on the bloc's recovery fund.
European Commissioner Margarethe Vestager, in charge of competition policy, said in Thurday's statement that "we continue working in close cooperation with member states to ensure that national support measures can be put in place as quickly and effectively as possible, in line with EU rules."
A failure to repair the balance sheets of European companies could have disastrous consequences for the economy. According to the International Monetary Fund, equity support of around 2% to 3% of economic output is needed in Europe, and 15 million jobs are at stake if nothing is done.
Even Germany, one of the region's most resilient economies, has probably forestalled about 25,000 additional bankruptcies with government financial support and a moratorium on insolvency filings, the ZEW institute said in a report on Thursday. Many small companies are likely to go under once aid measures are unwound, ZEW President Achim Wambach said.
French companies loaded up on debt during the crisis thanks to more than 130 billion euros of government-guaranteed loans. A recent survey by the CPME, an industry group that represents small and midsize businesses, showed 45% of companies that took one of the loans might not be able to repay them.
Participative loans were conceived in France in the 1970s, but they've never been used on such a large scale. They are similar to equity in that they are subordinated to all other debts and often come with a share of profits. But, like loans, they have a fixed interest rate and afford the creditor no voting rights.
France's new plan is innovative in its size, and because it puts the onus on banks rather than the state to distribute the loans. The rationale is that banks have the tools to selectively allocate funds and avoid sending government cash to companies that will fail anyway.
Still, it reflects how the pandemic has sparked a significant change in thinking in parts of Europe over how big a role government should play in the economy.
"The state was there to protect, whatever the cost," Le Maire said. "It will be there when investment is needed, whatever the cost."