France Weighs Turning Covid Loans Into Grants to Stem Defaults
(Bloomberg) -- France is considering transforming some state-guaranteed loans into grants to help the hardest-hit companies and avoid a wall of debt hurting the recovery, French Finance Minister Bruno Le Maire said Wednesday.
France is scrambling to find innovative financial tools to bail out its battered economy. It has issued about 130 billion euros ($157 billion) of state-guaranteed loans, mainly to help small companies through the pandemic lockdowns. With the crisis continuing, some have sounded the alarm over their ability to repay the money.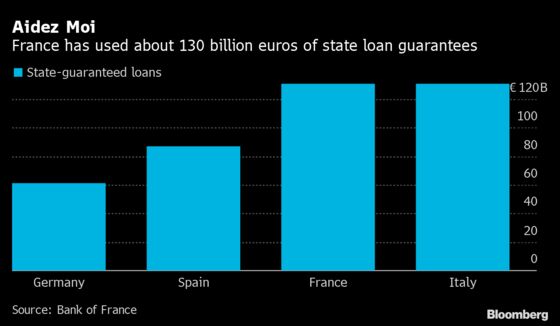 Speaking at the French senate's finance commission, Le Maire said he will look at the possibility of swapping loans for grants for companies that are in difficulty but which have longer-term prospects for recovery. Any such swaps would be considered on a case-by-case basis, he said.
"It is an option that is worth looking at and we will present" it to the European Commission, Le Maire said.
The Bank of France expects a loss ratio of between 4.5% and 6% on the loans, 90% of which would be covered by the state guarantee, the governor of the central bank Francois Villeroy de Galhau said earlier Wednesday.
The finance ministry is also looking at the possibility of extending the maturity of the state-guaranteed loans for some firms, particularly in the aerospace sector. That would require sign-off from the European Commission, which oversees rules on state aid.
France is also preparing a program backed by state guarantees to inject billions of equity-loans into companies to improve their balance sheets and encourage borrowing for investment. Le Maire said the repayment of those loans would only start after four years, and he'll present the final details in coming days.