France Example Suggests Easing Lockdowns Will Lift Output by 20%
Reopening Europe's schools and businesses shuttered by the coronavirus outbreak could lift economic output by 20%, according to a rough estimate by Bloomberg Economics.
The view is based on a French estimate that about 35% of output is lost because of stringent restrictions on movement. Moving to this "moderate" scenario reduces the hit to activity to around 16%, BE said. A "mild" containment, where most activity returns to normal but restrictions on gatherings and international travel linger, lowers it to 5%.
Click here to read the EUROPE INSIGHT on Bloomberg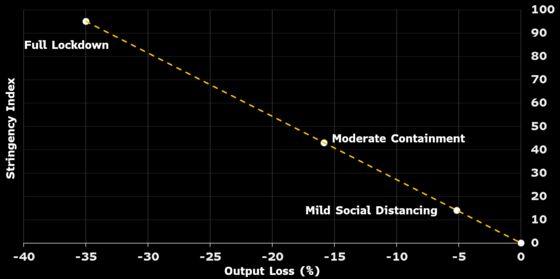 Countries across Europe have taken a variety of measures in response to the spread of the virus, though they're now considering how to get people back to work amid signs the crisis may be abating. In Germany, the region's largest economy, some smaller shops will be allowed to start serving customers again next week, and schools will gradually reopen in early May.
"Our back-of-the-envelope calculations suggest the move from full lockdown to moderate containment could allow output gains of about 20%, with a further 10% boost achievable as mild social distancing becomes the norm," BE economists Jamie Rush and Maeva Cousin wrote.
For the calculation, they combined the estimate by France's Insee with an Oxford University index categorizing countries' lockdowns. They assumed a linear relationship between the two.
They also argue that lockdown scenarios with school closures are consistent with a hit to GDP of 15%, though the effect of locked classrooms can't be split out precisely. Academic evidence, however, suggests school closures matter a lot because they affect labor supply.
"We think the general finding -- the step down to moderate containment is a big one -- probably holds in most countries," rather than just France, Rush and Cousin said. "Shutting all but essential industries and enforcing lockdowns is very different from suggesting people stay home and keeping some schools shut."