Four Weeks That Will Determine Fate of the ECB's Bond Buying
(Bloomberg) -- European Central Bank officials have four weeks left to make up their minds whether to freeze euro-area stimulus at current levels or pump yet more cash into the economy.
The Governing Council will hold its final policy meeting of the year on Dec. 13, when it will review the plan to cap its 2.6 trillion-euro ($2.9 trillion) bond-buying program. While that decision was initially taken in June, it's always been dependent on incoming economic data -- which have recently been weaker than expected
Here's the run-up to the meeting that could mark the end of an era:

WEEK 1 (Nov. 15 - Nov. 21)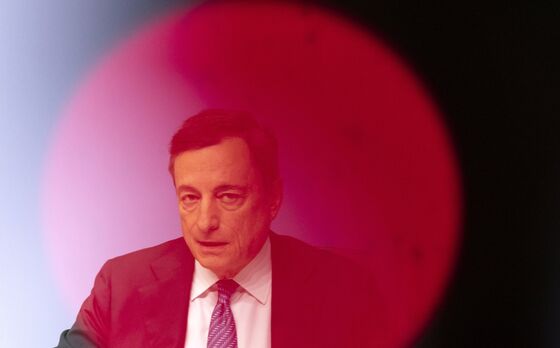 ECB President Mario Draghi and Bundesbank head Jens Weidmann, who have been on opposite sides of the quantitative-easing debate, will address an annual gathering of financiers in Frankfurt on Nov. 16. Draghi has previously used the event to hint at his plans. Weidmann's speech is called "From extraordinary to normal."
The tail-end of this period is also the cutoff for inputs into new economic forecasts that will underpin the December decision, and the Governing Council will hold the first of two meetings in the run-up to its year-end session.
The ECB's Advent Calendar
Monday
Tuesday
Wednesday
Thursday
Friday

Nov 15

Nov 16

Coeure, Praet, Guindos speak
Draghi, Weidmann speak

Nov 19

Nov 20

Nov 21

Nov 22

Nov 23

Cut-off date for forecasts this week
Nowotny speaks
OECD publishes new economic forecasts

ECB non-monetary policy meeting
Weidmann, Visco, Knot speak

ECB publishes account of Oct. 25 policy meeting
German GDP details

Flash euro-area PMIs

Nov 26

Nov 27

Nov 28

Nov 29

Nov 30

German IFO

Praet speaks
Italian manufacturing & consumer confidence
ECJ opinion on Latvia
Italian bond auction

German inflation
Euro-area inflation, unemployment

Dec 3

Dec 4

Dec 5

Dec 6

Dec 7

Eurogroup in Brussels
EU Commission report on Italy
Italian services PMI

ECB non-monetary policy meeting
German factory orders
German industrial production

Dec 10

Dec 11

Dec 12

Dec 13

Sentix euro-area investor confidence
German ZEW
Euro-area industrial production

ECB policy decision!
WEEK 2 (Nov. 22- Nov. 28)
The euro area's biggest economy, Germany, will release a second reading of third-quarter GDP on Nov. 23. Optimists will be hoping for an upward revision after the initial estimate showed the economy contracted for the first time since 2015. The same day, purchasing managers indexes for the euro zone will give a more up-to-date view.
A European Union summit on Nov. 25 -- if it happens -- to sign off on a Brexit divorce could soothe tensions over that topic, and Germany's Ifo index the next day will give a insight into how trade and geopolitical strife is affecting business confidence.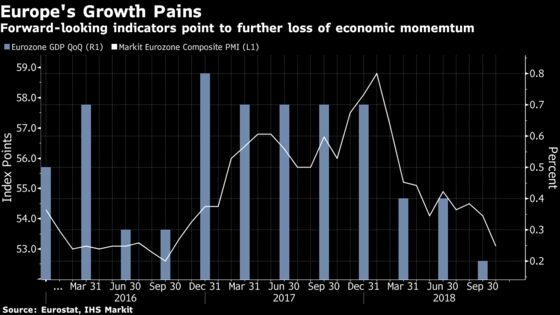 That should set the scene for a speech by ECB chief economist Peter Praet. His most recent message: the underlying strength of the economy is intact and policy makers should look through noise such as the temporary disruptions at German auto makers.
WEEK 3 (Nov. 29 - Dec. 5)
An Italian bond auction on Nov. 29 could mark a week of political drama that includes a budget debate in the Italian parliament, which may show how far the country is willing to test markets and the EU with its spending plans. The EU executive is due to deliver another assessment of the budget by Dec. 4.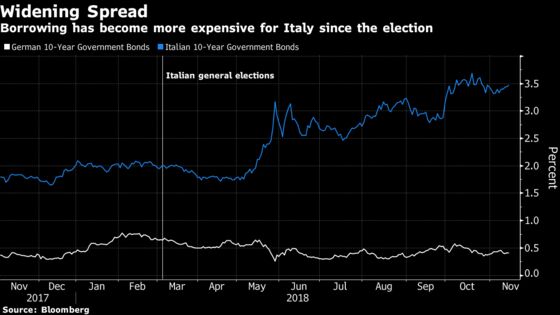 Nov. 30 is a key date -- the last reading of euro-zone inflation before the ECB meets. The Governing Council holds a non-monetary policy meeting on Dec. 5 -- though it would surprise no one if monetary matters arose.
The Governing Council goes into radio silence a week before its policy decisions, but important data will keep coming in.
Germany will report factory orders and industrial output, and the euro zone will get a detailed breakdown of third-quarter GDP. German investor sentiment and euro-area industrial output will be the last important data before the Governing Council publishes its decision at 1:45 p.m. Frankfurt time on Dec. 13.