Ex-Temasek Executive Warns Debt Deal Won't Fix Noble Group
(Bloomberg) -- Noble Group Ltd.'s foes aren't going away. Less than 24 hours after the commodity trader won shareholder approval for its $3.5 billion debt-for-equity deal, long-standing critic Michael Dee said the revamped company will struggle to recover and shouldn't be allowed to list shares in Singapore.
"I really don't believe that we're going to be in any different situation," Dee, a former senior managing director at Singapore state investment firm Temasek Holdings Pte, said in a Bloomberg Television interview on Tuesday. "The interest rate on the debt is way too high for a commodity trader," he said.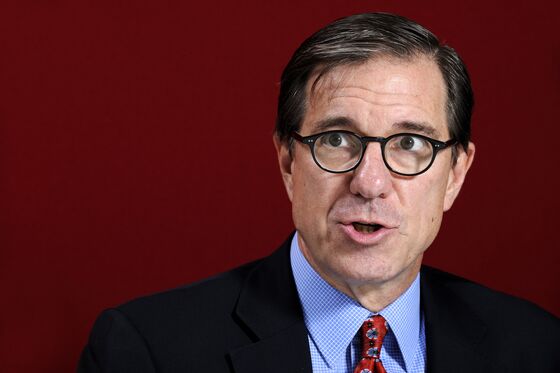 Noble Group took a major step toward restructuring on Monday as shareholders backed the deal, paving the way for the trader to seek approval from senior creditors, as well as from courts in England and Bermuda for schemes of arrangement. Along with Iceberg Research, Dee's been one of the company's most vocal adversaries as it lost billions, defaulted and faced criticism of its accounts, which it's rejected. Dee has also been critical of Singapore's regulators, who've stood by their actions as the crisis unfolded.
The hedge funds backing the restructuring are "going to exit stage left, right, front and center, top and bottom: they're not long-term holders, they're making a trade," Dee told Haidi Lun and Rishaad Salamat. "What will happen after this is that there'll be a lot of hype, a lot of people will come out and try to push the line that this is going to be a New Noble, very successful, that it is going to go back up to its great grandeur and glory. It's not."
A spokesperson for Noble Group declined to comment on the remarks from Dee, who's also a former regional chief executive officer at Morgan Stanley.
The restructuring circular outlined New Noble's planned borrowings, including up to $1.7 billion in bonds, in addition to trade finance. Interest rates on the bonds ranged from 5 to 10 percent, with some rising over time. Some have payable-in-kind terms, while others are pay-if-you-can in cash or payable-in-kind. That means unpaid interest would become part of the principal, it said.
Dee highlighted the notes' terms. "It's very telling that in the new debt they're going to issue, they're going to have a 'PIK' structure," he said.
Under the plan, 70 percent of the equity in the revamped company will go to creditors, 10 percent to management, and the rest to shareholders, while the debt burden will be halved. On Tuesday, Noble's shares initially rose, then sank as much as 26 percent, while the 2018 bonds touched a five-month high.
"I have to call a spade a spade," Dee said on the regulators' role overseeing Noble Group. "This has been a complete catastrophic meltdown."
In the city-state, Singapore Exchange Ltd. has front-line responsibility for maintaining fair, orderly and transparent markets, backed by up the de facto central bank, the Monetary Authority of Singapore. Both have defended their roles as Noble Group imploded, most recently in remarks in response to comments from retail investors who've lost money.
As Noble's troubles mounted, SGX said it's had frequent contact with the company, queried it for more detail on results, and requested that Noble appoint an independent financial adviser to assess the debt-for-equity plan. A spokesperson has said the exchange is committed to holding issuers and professionals responsible for their actions and opinions, and if there's any evidence of wrongdoing, it'll be referred to the appropriate authorities.
More than 86 percent of senior creditors back the rescue, and Chairman Paul Brough told the shareholder meeting the restructuring should be complete in two to three months. In a statement, Brough said it's critical the restructuring be wrapped up "as soon as possible" to enable the group to operate with a sustainable capital structure and to capitalize on opportunities in Asia.
Noble also faces opposition from Iceberg Research, the group that first published critiques of the accounting in 2015, claiming profits were overstated. Led by a former employee Arnaud Vagner, Iceberg is now trying to organize a fresh legal challenge to the restructuring. Dee said he has no relationship with Iceberg, with the two arriving at similar findings independently.
Noble Group has consistently rejected Iceberg's claims, and it's pursuing a lawsuit against Vagner. At the shareholder meeting, Chief Financial Officer Paul Jackaman said the company was ready to defend itself vigorously against potential legal challenges.
"There should be a full, forensic accounting done to determine: 'Am I right, or is the company right? Is Iceberg right, or is the management right?'" Dee said. "Let's find out, let's actually do that with somebody who's truly independent."