Brazil Lays Out Its Defense Buffers Against Shocks: IMF Update
(Bloomberg) -- Mounting trade tensions and stresses in emerging markets are starting to take a toll on the world economy. The International Monetary Fund this week said world growth is plateauing and cut its outlook for the first time since 2016. Those issues are dominating talks at the annual IMF and World Bank meetings in Bali, Indonesia this week, as well as a stock-market rout that's spread from the U.S. to Asia.
Here are the latest developments from the meetings, updated throughout the day. (Time-stamps are local time in Bali.)
Brazil's Lays Out Its Buffers for Shocks (5:32 p.m.)
Brazil's central bank Governor Ilan Goldfajn said 2018 marked a reversal for emerging markets after more than a year of him warning the benign global environment wouldn't last forever. He said in a presentation he counts among his policymaking buffers a floating exchange rate that's the first line of defense, as well as inflation that -- for the 18 months through September -- was below the 4.5 percent midpoint of the central bank's target range. It now sits just 3 basis points above that.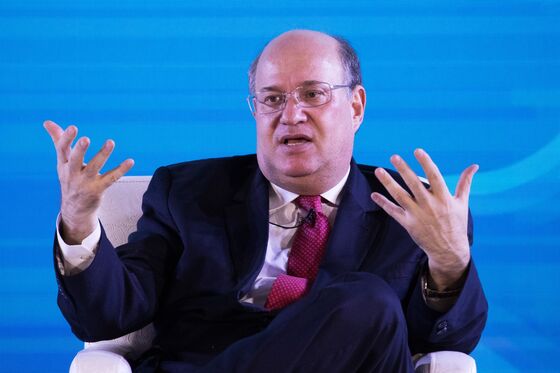 "Normalization, trade disputes, all of this is bringing some uncertainty, generating a shock, and that is bringing inflation back to the target," Goldfajn said. "It is important that you have some room in your inflation when you enter a period that's more uncertain."
Other buffers he highlighted were international reserves and a resilient financial system. In the latter regard, he said many emerging markets have shown improvement.
Malaysia Says EMs Need Capital Flow Measures (4:19 p.m.)
Malaysia's central bank Governor Nor Shamsiah Mohd Yunus said countries that are faced with large cross-border flows should be allowed to use measures to manage the movement of capital.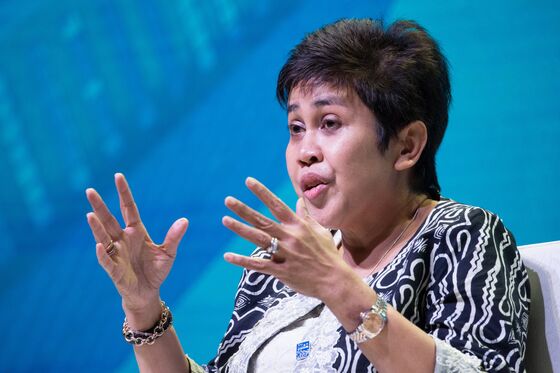 Macro-prudential measures help address mis-pricing in assets like property, but can't address issues in the interbank market. Policy makers should be able to employ capital management measures pre-emptively, she said on a panel on monetary policy with counterparts from Thailand, Indonesia and Singapore.
"Monetary tools may not yield the result needed to contain risks from offshore to onshore and that's why capital flows measures are needed," she said.
Thailand's Veerathai Santiprabhob argued that to help support financial stability, inflation targeting policies could be more flexible, for example by widening the target band or allowing policy makers a longer time to meet the goal.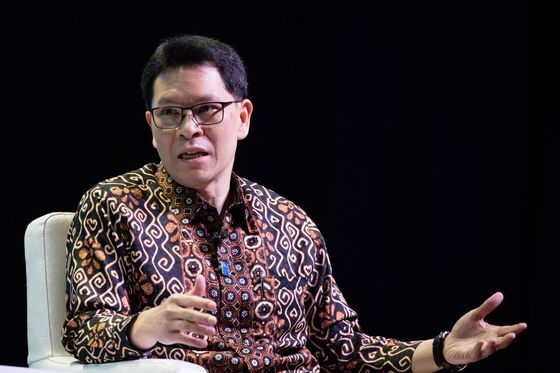 The central bankers agreed that monetary policy is no longer just about price stability. Ravi Menon, managing director of the Monetary Authority of Singapore, said for many emerging markets, and some small advanced economies, volatility in exchange rates and asset prices can be even more distortionary to consumption and growth than inflation.
African Policy Makers Defend Chinese Lending (4:15 p.m.)
Officials from Kenya, Equatorial Guinea and the Ivory Coast said Chinese lending has helped Africa build necessary infrastructure and that most countries are taking on debt in a sustainable manner. That doesn't mean there isn't room for improvement, they said.
"There's scope for reforms and we have been discussing that in Focac (the Forum on China–Africa Cooperation) and in bilateral discussions: better procurement of Chinese construction, contractors and also transparency in how we do business," Kenya Treasury Secretary Henry Rotich said.
The Ivory Coast's Adama Kone said the nation's loans with Chinese partners have acceptable costs and "bearable" means of reimbursement.
IMF's Lagarde to Attend Saudi Investment Summit (1:37 p.m.)
IMF Managing Director Christine Lagarde said she still plans to attend the "Davos in the Desert" summit in Saudi Arabia, an event that has become shrouded in controversy after Turkish officials alleged Jamal Khashoggi, a Washington Post columnist who lived in self-imposed exile, was murdered in the kingdom's consulate in Istanbul.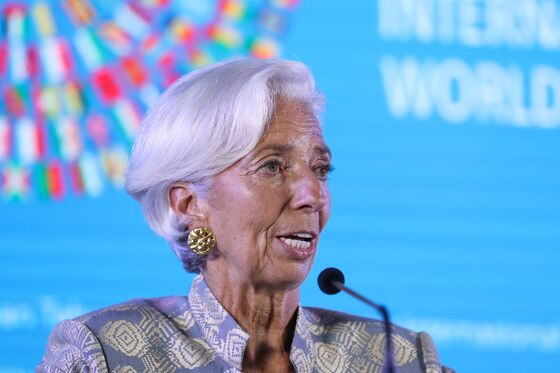 The three-day gathering, officially known as the Future Investment Initiative, is intended to showcase Prince Mohammed bin Salman's modernization plan for the country.
"At this point, my intention is to not change my plan and to be very attentive to the information that is coming up in the next few days," Lagarde told reporters in Bali. "Human rights, freedom of information are essential rights," she said, adding that she intends to remain an outspoken voice on important issues.
Risks To Global Economy Growing, IMF Panel Warns (1:25 p.m.)
The global recovery is increasingly uneven and risks are being skewed to the downside, the IMF's main policy-advisory panel warned Saturday.
While the world expansion remains strong, the outlook is being clouded by "heightened trade tensions and ongoing geopolitical concerns, with tighter financial conditions particularly affecting many emerging market and developing countries," said the International Monetary and Financial Committee, a 24-member panel that advises the fund on policy issues.
The committee made the following recommendations:
Member nations agreed to refrain from "competitive devaluations and will not target our exchange rates for competitive purposes"
Countries should rebuild fiscal "buffers" where possible and avoid "procyclical" stimulus
Central banks should "maintain monetary accommodation where inflation is below target, and withdraw it in a gradual, well-communicated, and data dependent manner where inflation is close to or above target"
They also acknowledged that "free, fair, and mutually beneficial goods and services trade and investment are key engines for growth and job creation"
Mnuchin Says Public Debt Transparency Is Key (12:54 p.m.)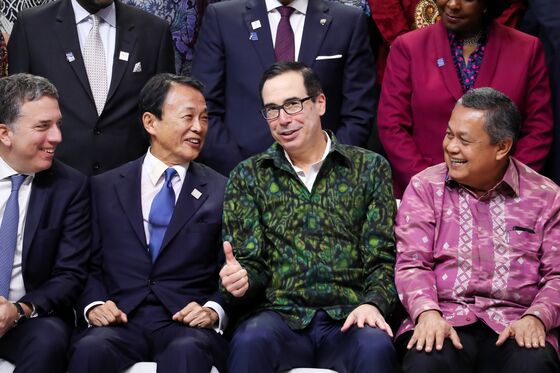 U.S. Treasury Secretary Steven Mnuchin called for more transparency on public debt data, saying high and rising debt levels in emerging and low-income countries continue to be a key risk to the global economy.
"Improving the transparency and comprehensiveness of debt data as it relates to publicly guaranteed and contingent liabilities is critical for more effective debt sustainability assessments and policy responses to debt-related risks," Mnuchin said in a statement on Saturday to the Development Committee of the World Bank and International Monetary Fund.
China Says Trade War Is Not Solution (11 a.m.)
Appropriate domestic policy, not a trade war, is the solution to make sure people can equally benefit from globalization, China's deputy finance minister said.
"We're against the trade war. We always believe that trade war is a problem, not a solution to the impacts and challenges of globalization," Zou Jiayi said on a panel.
People who feel frustrated that the benefits of global development isn't evenly shared should resort to proper domestic policies and international cooperation to address the problem, Zou said. The Chinese government has started a three-year poverty alleviation plan to ensure more of its people will benefit from the nation's development, she said, suggesting other countries do the same to improve equity.
"It is the sovereign government's responsibility to ensure the outcome of the development of this particular country would be properly shared by the most majority of the people," she said.
Ex-Goldman FX Strategist Says Trade War Is Focus (10:24 a.m.)
While the sell-off in global markets dominated headlines this week, delegates attending the Institute of International Finance's annual meetings in Bali have only one issue on their minds, according to Robin Brooks, the group's chief economist.
"There's really only one discussion that's happening here, in earnest," Brooks said in an interview. "And that is basically the intensity of the trade dispute between the U.S. and China and how bad that will get -- how prolonged and how pernicious."
Much of the discussion centers on how the U.S. and China can reach a middle ground, if at all.
"The underlying question people have is what is the Trump administration's goal," Brooks said, and a former head of currency strategy at Goldman Sachs Group Inc. "That's the big debate -- how far will it go."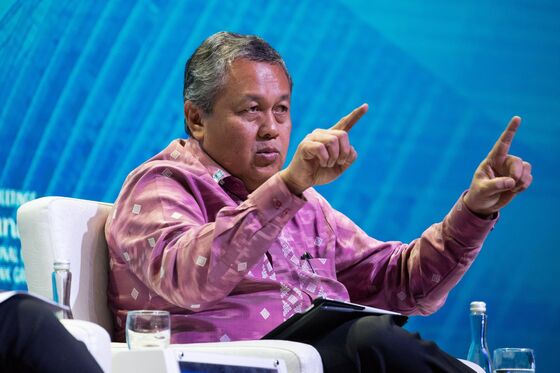 Warjiyo Discusses Rising Rates With Fed's Powell (8:30 a.m.)
Bank Indonesia Governor Perry Warjiyo discussed rising global interest rates in a meeting with U.S. Federal Reserve Chairman Jerome Powell on the sidelines of the Bali meetings on Friday.
The two spoke about economic developments and policy normalization in developed nations and the effect on emerging markets, Bank Indonesia said in a statement. Warjiyo also told Powell about Indonesia's economic resilience, supported by the policy mix carried out by the central bank and the government, it said.