Former ECB Official Warns Lagarde to Mind the Expectation Gap
One of the architects of the European Central Bank's unprecedented monetary stimulus over the past decade has a suggestion for President Christine Lagarde and her planned strategy review: Don't take your eye off the main goal.
Peter Praet, the ECB's chief economist until his eight-year term ended last May, said central banks aren't all-powerful and issues such as climate change, while important, shouldn't distract from the mandate to keep prices stable.
Since she took office in November, Lagarde has repeatedly said that the ECB will aid the fight against global warming, yet Praet said that raises the risk of under-delivering.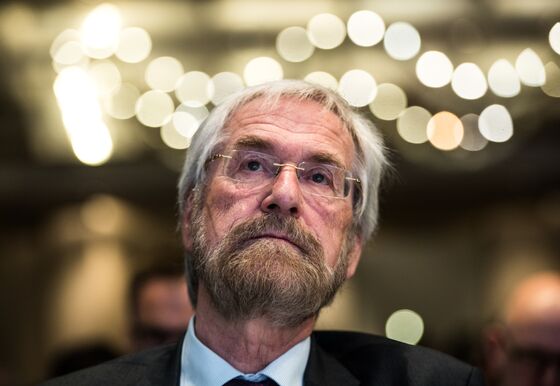 "I kindly warn of the expectation gap," he told reporters in Stockholm on Tuesday. "Expectations among citizens, I think more than those of capital markets, that is something that has to be managed very carefully."
Praet's comments highlight the difficulty Lagarde is having in keeping control of the public debate over the ECB's first strategic review since 2003. Her pledge to "turn each and every stone" has fueled often-contrary remarks over what the central bank should and shouldn't do on topics ranging from weak price growth and the inflation goal to climate action and digital currencies.
The president has written to Governing Council members saying she wants to agree on the review at their next meeting on Jan. 23. Praet urged officials to avoid simply questioning whether current policy has worked, which could lead to inaction and an erosion of public credibility, and instead echo the U.S. Federal Reserve by studying what it can do to tackle future recessions.
Praet's role under the previous president, Mario Draghi, was to present monetary policy proposals to the Governing Council. On his watch, the ECB implemented negative interest rates in 2014 and quantitative easing in 2015. Rates have continued to fall since, and the euro region's slowing economy prompted officials to resume QE last year only months after it had been capped.
The Belgian economist defended negative rates as necessary at the time, as the euro zone faced the risk of deflation, but acknowledged that the longer they last, the more damaging they can be.
"In a society where the discount rate is negative -- how do you explain it?," Praet said. "It must reflect deep pessimistic things in the society."
He also spoke about the Swedish central bank's decision last month to end five years of negative rates, when it raised the benchmark by 25 basis points to zero. While the move was flagged well in advance, the Riksbank has been criticized by analysts who say policy makers haven't done enough to articulate why they acted even as the economy slowed.
"It's true that the recent cyclical developments are a little bit at odds with the decision," Praet said, adding that the Riksbank was "probably" right to do it. "It's difficult to explain. That's why they didn't explain it very well."