Forint No Obstacle to Hungary Holding Rates: Decision Day Guide
Hungary's central bank is set to hold fire on interest rates, looking past the forint's plunge to near a record low against the euro as loose monetary policy continues to help fuel robust economic growth.
The Monetary Council will keep interest rates and its unconventional toolkit unchanged, according to all economists in a Bloomberg survey. The central bank will announce its rate decision at 2 p.m. in Budapest, followed by a statement an hour later.
The most dovish central bank in the European Union's east will probably wait for new economic projections due in December, before reviewing the monetary policy setup. While rate setters have identified disinflationary risks to the outlook, mostly on the back of a slowing world economy, core price pressures have remained strong, reflecting a tight labor market and soaring consumption.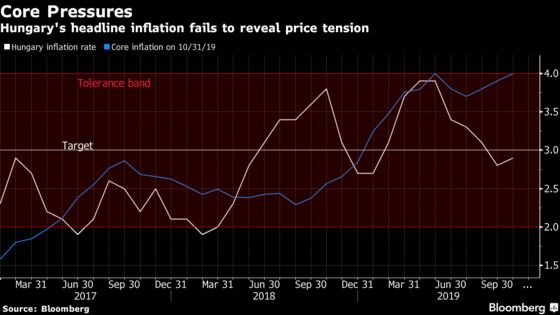 "The Monetary Council has displayed an increasingly dovish bias in its communication," Jose Cerveira, an economist at JPMorgan Chase & Co., said in an emailed note. Yet the rebound of core inflation to the upper end of the central bank's tolerance band, "combined with the forint's trend weakness this year, has closed the window for any further policy easing," he said.
Loose financing conditions, as well as deteriorating global risk appetite, have contributed to the forint's decline. It has been the second-worst among emerging markets over the last month and traded at 335.59 per euro on Monday, near a 336.31 record reached in Sept.
Still, the country has managed to weather headwinds from abroad, for now, with economic growth accelerating to 5% from a year earlier in the third quarter.