For Hong Kong Homeowners, Rate Rise Is Just a Few Less Big Macs
(Bloomberg) -- A 12.5-basis-point increase in Hong Kong's prime rate -- the first in a more than a decade -- may pressure home builders in the city but shouldn't unduly dent people's purchasing power.
Assuming a 30-year, HK$6 million ($767,800) mortgage on a HK$10 million apartment, the hike would raise monthly repayments by about HK$479, according to GoHome.com.hk's mortgage calculator. That's the equivalent to around 24 Big Macs in the former British colony.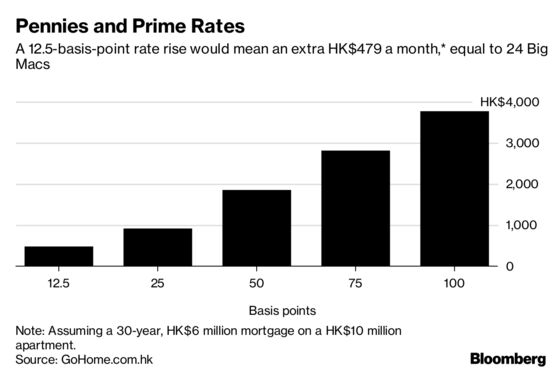 The pace for rate hikes should be mild, so "the impact on existing borrowers won't be huge," Ivy Wong, managing director of Centaline Mortgage Broker Ltd. said. The average mortgage payment-to-income-ratio in Hong Kong is about 35 percent, she said.
HSBC Holdings Plc boosted its best lending rate to 5.125 percent, it said in a statement Thursday, hours after the Hong Kong Monetary Authority raised its benchmark interest rate by 25 basis points, in line with the U.S. Federal Reserve. Standard Chartered Plc and Hang Seng Bank Ltd. followed.
In Hong Kong, the vast majority of home loans -- around 95 percent -- are tied to the Hong Kong Interbank Offered Rate, or Hibor, HKMA data show. "But all of them should have reached the prime rate-linked cap," Morgan Stanley analysts led by Praveen Choudhary said in a note. "Hence, prime rate hikes should increase mortgage payments for existing home owners."
Home prices in what is the world's least-affordable housing market have climbed 13 percent this year, according to Centaline Property Agency, and 485 percent from their 2003 trough. Deteriorating affordability, negative rental spread and low secondary volumes should all put pressure on Hong Kong developers, Morgan Stanley said.