Flashbacks to 2018 Euphoria Keep Hong Kong Traders in Check
(Bloomberg) -- It's only been a year since Hong Kong's equity traders got caught in one of the fastest run-ups the city has ever seen.
This time, they're treading with caution. Jan. 26 marks a year since the Hang Seng Index closed at an all-time high, after expectations of strong global growth and buoyant corporate earnings sent the city's bull market into overdrive. But unlike 2018, signs of exuberance are few and far between. While Hong Kong stocks are enjoying another January rally, an indicator of buying momentum remains far off its 2018 peak and valuations are 17 percent lower.
Traders have taken the Chinese central bank's brand new "Bills Swap" as a positive signal, betting the tool will boost loan growth and support the economy. It provides banks with a wider pool of securities that they use as high-quality (read: People's Bank of China-backed) collateral. Financial stocks led Friday's rally onshore, extending their best monthly gain in a year.
The shift in sentiment has made it a bad week for China's government bonds. The 10-year benchmark yield, which just last week was about to drop below 3 percent for the first time since 2016, is now set for its first weekly gain since mid-December.
Read more:
The bond rally is fading 
Stocks shrug off weak data 
A bullish move for Hong Kong stocks
Meanwhile, one of the world's least volatile currencies is getting exciting again. The Hong Kong dollar dropped toward the weak end of its trading band for a fourth week, its longest stretch of declines versus the greenback since July. A widening gap between the city's borrowing costs and U.S. dollar rates has made shorting the pegged currency significantly more profitable. This carry trade was so popular last year it spurred Hong Kong's de facto central bank to intervene repeatedly to defend the peg.
Read more:
Pressure's growing on the Hong Kong dollar 
A chart showing the currency move
The Hang Seng Index is getting close to its 200-day moving average. It hasn't risen over that level in more than two years, around the start of its last bull market.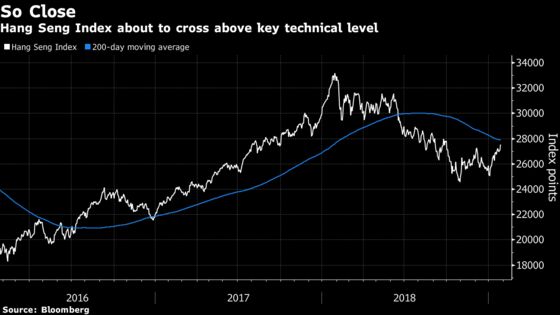 Here's what else caught our eye:
China will grant more licenses to Wall Street.
IPOs could eventually be priced above 23 times earnings.
How to bet on China without having to play the yuan.
One key driver of home sales may be on the wane.
Issuers are buying their own bonds to inflate demand.
Why Xiaomi Corp.'s buyback hasn't really helped the stock.
Foreign funds are oddly loyal to this Apple Inc. supplier.
Risky bonds are all the rage in China.
Share-pledging risks haunt Hong Kong's market.
The rally in developer bonds won't last.