Patience Pays Off for Stock Investors as China, Fed Alter Plans
(Bloomberg) -- Patience is often a virtue in investing but in 2019 it's been the key to everything.
Ask a U.S. equity investor who sat tight as the S&P 500 posted its worst December since the Great Depression. She made it all back when Federal Reserve Chairman Jerome Powell softened his stance on tightening. Chinese shareholders just had their best day in more than three years after President Xi Jinping signaled the government's push to control risk is giving way to a desire to support the economy.
Is a government or Fed policy keeping you up at night? The best thing to do has been to wait around for them to get nervous and abandon it.
"The reality is most of the global central banks have now come to realize that there is a softening in global economic activity," said Nathan Thooft, Manulife Asset Management's head of global asset allocation. "You are seeing what appears to be a fairly coordinated, or at least coincidental move, in most central bank activity to a more dovish tone. That also applies to fiscal policies as well, including the China deleveraging campaign."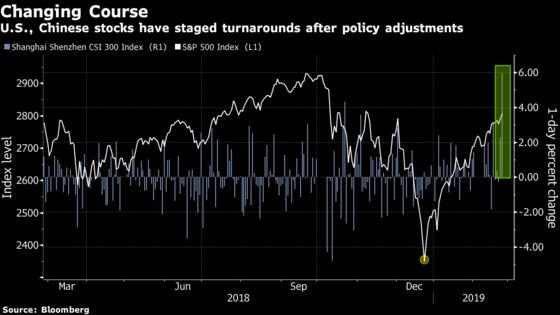 China's been cracking down on financial leverage for years, but now Xi is signaling it's not necessarily his top priority. "Risk prevention should be done on the basis of stable growth," he said, a departure from earlier language that called for "balancing efforts to stabilize growth, restructure the economy and prevent risks."
That helped send Chinese stocks surging into a bull market, pushing the CSI 300 Index up 6 percent Monday in its best showing in over three years. Chinese exchanges saw shares worth near $150 billion change hands, about three times the average daily turnover in the past year.
"The market is anticipating what you might call another leverage cycle within China,'' said Brad Setser, senior fellow at the Council on Foreign Relations. "When China relaxes controls on leverage and credit, the economy has typically responded."
For U.S. markets still benefiting from a dovish shift by Powell, the story is a similar one. Some would say the chairman saved the bull market as the S&P 500 spiraled to within a whisker of ending it last year.
Over just a few weeks, interest rates went from being "a long way from neutral" to "just below" the Fed's target range. The central bank's balance sheet unwind went from being on autopilot to potentially ending this year. And patience became the Fed's mantra. In minutes from the most recent meeting, the Fed dissected just what caused the fourth quarter market meltdown, including their own communication.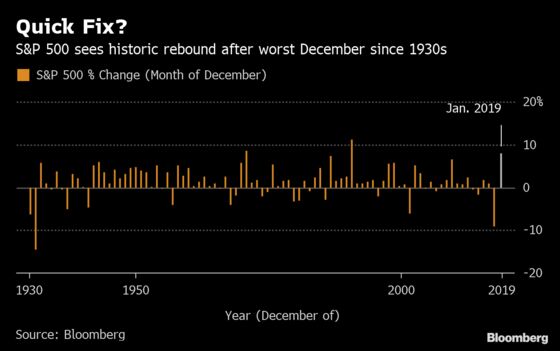 "Both sides now are locked into 'patience' for a while," said John Vail, chief global strategist at Nikko Asset Management. "Obviously the Fed change helped the market tremendously. The golden rule of investing is don't fight the Fed, and Powell did change his language."
There are differences in the respective postures. China is still looking to reduce debt, according to Seema Shah, global investment strategist for Principal Global Investors, just not at the expense of a full blown economic recession.
"What they're trying to do is take it back to the point where they're deleveraging so you still get that soft slowdown," Shah said in an interview at Bloomberg's New York headquarters. "But you're not getting an economic downturn which just keeps on going through the whole of 2019 into 2020."
Of course, everything is happening against the backdrop of an ongoing trade tiff, albeit one that seems to be moving forward positively after President Donald Trump issued an extension to an imminent tariff-hike deadline and raised prospects for a "signing summit." Should a truce continue and a deal be signed, igniting Chinese and emerging market stocks -- and their economies -- that could in turn put central bank tightening and China's focus on deleveraging back on the table.
But for investors, talk and action on stimulus and easing has been a recipe for renewal.
"It's not simply the Fed or one central bank or another, it's the whole array of central banks have toppled like a row of dominoes and become increasingly dovish," Bob Michele, chief investment officer at JPMorgan Asset Management, said on Bloomberg Television. Markets "were facing a lot of things -- a potential trade war, continuously tightening monetary policy -- both of those things seem relaxed and for now the pressure is off."