Fire, Snow, Hurricane Striking U.S. in Clash of Seasons
(Bloomberg) -- A string of wild weather is hitting the U.S. in what one forecaster calls the "clash of seasons."
A powerful Pacific storm has brought frigid temperatures and heavy snow across the Rocky Mountains, Great Plains and even south into Texas. The same system is driving swirling dry gusts across California and the far West, raising wildfire risk to critical levels. And that trough of low pressure is helping steer Hurricane Zeta, giving it a path toward the U.S. Gulf Coast, which has already been pummeled by storms this year.
All of it only adds to a crazy 2020 of weather, ranging from a near-record number of tropical storms, a derecho leaving wreckage from Iowa to Indiana and summerlike heat that raised temperatures to record highs across Florida in the spring. Now, snow and cold will strike the U.S. within days of a potential hurricane and tropical warmth.
"It's unusual but not unheard of," said Bob Oravec, a senior branch forecaster at the U.S. Weather Prediction Center. "Not every year you have something like this."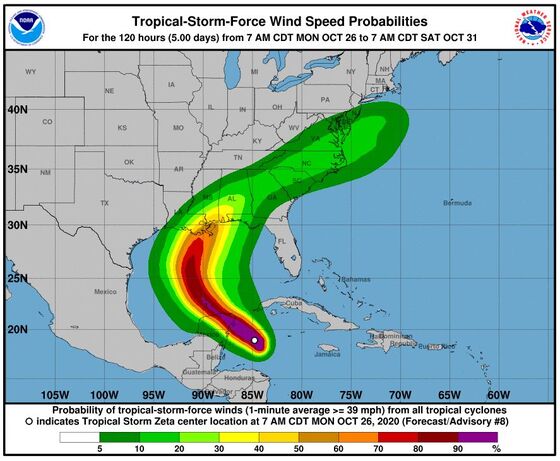 The more abnormal aspect is the cold and snow that will reach all the way into Texas. As much as 4 inches (10 centimeters) of snow could fall in Lubbock Monday with ice and a few flakes reaching as far south as Odessa, the National Weather Service said. Winter storm warnings, weather advisories and freeze warnings spread from the Rocky Mountains into the Midwest and south almost to the Mexican border.

The twist is it won't last, Oravec said. By this weekend, temperatures will start to rise again. Denver, where the temperature was 9 degrees Fahrenheit (-13 Celsius) by 10 a.m. Monday, should be in the 60s by Friday.

"There will be some beautiful weather there," Oravec said.
A buckle in the jet stream can be blamed for the snow and ice, said Jim Rouiller, lead forecaster for the Energy Weather Group. A high pressure system that formed over Siberia spread into Canada and caused the ribbon of air that circles the Earth to pump frigid cold into the U.S. This pattern will relax by next week, with winds off the Pacific bringing milder temperatures and calmer weather across much of the country. Until then, there will be winterlike cold coinciding with a tropical storm.
"It's the clash of seasons," he said.

For California and the rest of the West that's been dealing with wildfires, it will be another round of very dry, warm air that won't help keep the blazes at bay. The state's fire season doesn't usually end until the large rains of winter arrive and there's no sign they'll be coming anytime soon. And Colorado, which has already seen record large fires this fall, may see more blazes as rising temperatures dry out the air.

More immediately, Hurricane Zeta will strike the Gulf Coast Wednesday, probably as a hurricane, bringing high winds and rain anywhere from Louisiana to Florida. It will be the 11th storm to hit the U.S. in 2020, the most on record.
And it may not be the last. There are signs that 2020 will surpass the record 28 Atlantic storms in 2005, so there could still be another that reaches for the U.S. mainland, Rouiller said.

"Zeta is not going to be the end of this," he said.