Finnish Recovery Stalls as GDP Unexpectedly Shrinks in 1Q
Finland's economy unexpectedly contracted in the first quarter, showing the recovery from the pandemic has stalled in the only Nordic member of the euro area.
Gross domestic product shrank 0.1% from the prior three months, Statistics Finland said on Friday. A flash estimate had indicated 0.4% growth in the quarter. Output contracted 1.0% in the first three months of the year from a year ago, it said.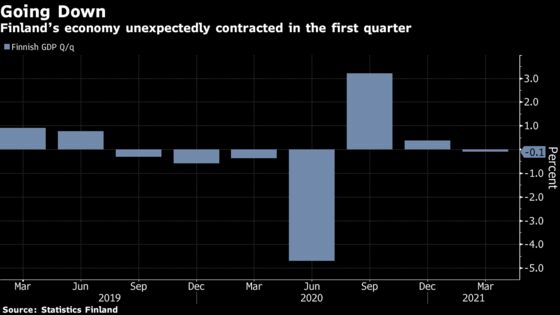 "This was a setback to the economic recovery," Timo Hirvonen, Helsinki-based Chief Economist at Svenska Handelsbanken AB, said in a note to clients, adding the data were weaker than estimated. "Economic growth must clearly accelerate this year in order to reach our forecast of 2.8% for the year."
The economic picture is bleaker across the euro area, with preliminary data showing a 0.6% decline in the first quarter from the prior three months. Finland's relatively milder downturn in the wake of the pandemic is the result of fewer restrictions and the absence of lockdowns, which have allowed most businesses to operate. The country has already given a first coronavirus vaccination to more than half of its adult population.
According to recent economic data, businesses are showing more optimism even as industrial production continues to contract and many service industries such as entertainment and hospitality are still suffering. Retail sales are growing, with consumer demand underpinning the economy.
In the first quarter, exports fell 5%, government spending shrank 1.3% and private consumption declined by 0.7% from the prior three-month period. Imports and investments both grew 1.4%.
Activity in the economy is set to perk up in the second quarter, with the fastest growth to be seen in the third quarter, when all restrictions have been removed and pent-up consumer demand begins to unwind, Hirvonen at Handelsbanken said.