Fight Brewing Over Mexico Rates as AMLO Holds Fire Against Hawks
(Bloomberg) -- Go inside the global economy with Stephanie Flanders in her new podcast, Stephanomics. Subscribe via Pocket Cast or iTunes.
Like Donald Trump, Mexico's president has promised faster economic growth, and could use some help from lower borrowing costs.
Unlike Trump, Andres Manuel Lopez Obrador is keeping pretty quiet about it -– so far. Mexico's hawkish central bank, which is expected to keep its benchmark interest rate at 8.25% today even after the economy unexpectedly shrank, may test his patience.
With trade wars looming over the outlook, and political pressure on central banks escalating all over the world, some analysts wonder how long AMLO's vow of silence will last. They'll be scanning Banxico's statement, due at 1 p.m. local time, for signs that his two appointees on the five-member policy board are making trouble for the majority.
Lopez Obrador arguably has more reasons to complain than his northern counterpart. The U.S. economy has been expanding at a decent pace, even as Trump berates the Federal Reserve for failing to juice it some more. By contrast, Mexico -– which as a developing nation is supposed to grow faster –- saw output decline in the first quarter.
It's a long-term underperformer too, with growth rates that have lagged emerging-market peers for decades. With its cautious approach to policy, Mexico has largely avoided the busts that plagued several Latin neighbors, as well as other developing economies like Turkey. But it also missed out on the booms.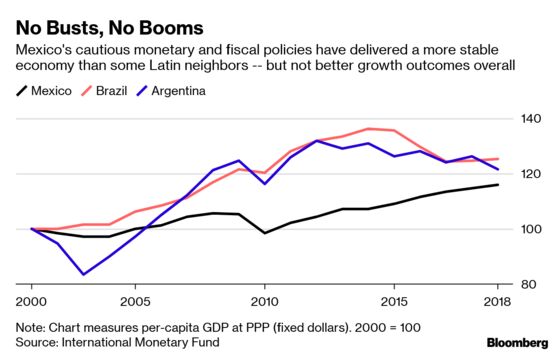 Lopez Obrador often cited that record on the campaign trail, before his landslide win last year -– and pledged to turn it around. At the moment, though, economists forecast that growth won't exceed 2% through at least 2021, when AMLO's term will be halfway over. And Mexican presidents only get one.
Unless there's a pickup, Lopez Obrador may end up breaking his vow not to put pressure on monetary policy makers, said Josephine Shea, a senior portfolio manager at BNY Mellon in Boston.
"The temptation to intervene will grow,'' she said, though maybe not until "a year or two down the road.''
Ociel Hernandez, chief strategist at BBVA in Mexico City, says that Lopez Obrador could start publicly opining on rate decisions earlier than that -- by the end of this year, if Banxico hasn't started to loosen by then. Most economists don't expect a cut before the fourth quarter.
Hernandez also predicted that Gerardo Esquivel, one of two AMLO appointees on the policy board, may break ranks today by voting for lower rates. Like AMLO's other nominee, Jonathan Heath, Esquivel supported the March decision to hold. But he dissented from the accompanying statement, saying it placed too much weight on inflationary risks.
What Our Economists Say:

"The divide within the board is likely to continue increasing." For now, "the priorities of the executive are probably different from the priorities of the central bank."

By appointing members who share his dovish approach, Lopez Obrador "is not limiting the independence of the central bank. He's just making sure the central bank thinks more like him."

Felipe Hernandez, Latin America economist, Bloomberg Economics
Inflation jumped to 4.4% last month, above the 4% upper end of the bank's target range. Most economists say that was caused by changes to the index, and will soon reverse.
Even taking that price jump into account, Banxico runs one of the tightest policies around.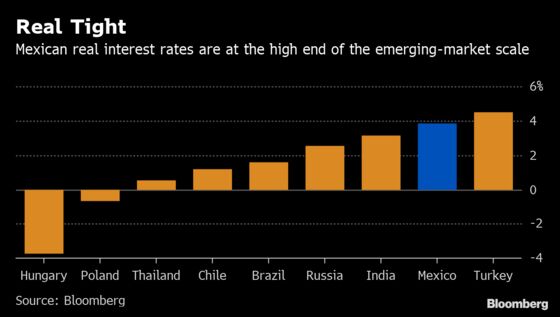 Real interest rates, calculated by adjusting the nominal rate for inflation, are reckoned to be the best measure of the cost of borrowing money –- or the return from lending it. Mexico's stands at close to 4%, higher than most peers. That has helped to make the peso the world's best performing major currency since Lopez Obrador took office in December –- which may help explain why the president hasn't been pushing the central bank harder, according to Luis Maizel, a senior managing director of LM Capital Group in San Diego.
"People very close to him tell me the first thing he asks in the morning is 'How did the peso open','' Maizel said.
But while high interest rates prop up currencies, they also curtail the bank lending that makes economies grow. Mexico has low levels of credit by emerging-market standards.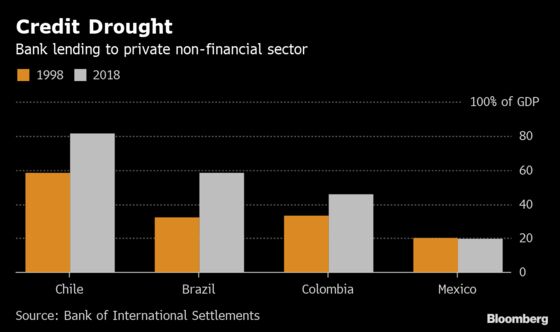 In January, the government announced a package of measures aimed at changing that. Lower rates didn't feature in the plan. Still, standing alongside Banxico chief Alejandro Diaz de Leon at the launch, Lopez Obrador said he'd like the central bank to "also think about growth.''
It was a rare moment when the new leftist administration went public with its concern about Mexico's hawkish monetary policy. Another came a couple of days later. Discussing the lending plan in an interview in New York, Finance Minister Carlos Urzua let slip a concern that Mexico's 8.25% benchmark rate "could be an obstacle.''
He quickly backtracked, saying there are ways to get credit to flow without leaning on the central bank. "The rate isn't that high.''