Rally's Not Over for Mexican Peso, Says $523 Billion Japan Fund
(Bloomberg) -- While emerging markets as a whole are challenged by global central bank stimulus withdrawal and trade tensions, Mexico offers value and Brazil looks attractive over a longer-term horizon, in the eyes of one asset manager at a Japanese fund giant.
Mexico's growth faces limited risks as long as the U.S. expansion rolls on, according to Satoru Matsumoto, a fixed-income fund manager at Asset Management One Co., which oversees the equivalent of $523 billion. He said he added a position in the Mexican peso as the country's election result unfolded this month.
Matsumoto isn't counting on any big rallies, however. "Emerging currencies will be under downward pressure for the rest of the year," thanks to the twin dangers of developed-world monetary policy normalization and trade tensions, he says. "You have to look for emerging-market assets that will remain resilient, rather then seek those that would go up."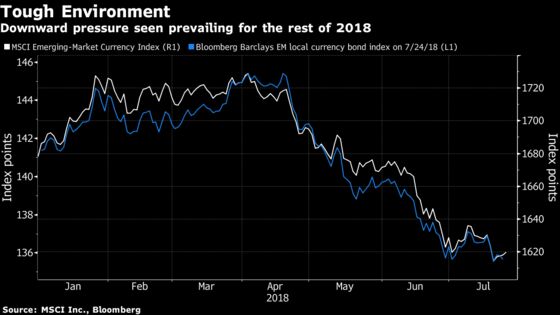 Matsumoto shares a preference with some other Japanese investors for Mexico following Andres Manuel Lopez Obrador's landslide victory in the presidential election this month. Mitsubishi UFJ Kokusai Asset Management Co. also favors the peso. The Mexican currency has advanced 5.1 percent this year versus the dollar, the best performance among major emerging currencies tracked by Bloomberg. Only Colombia's peso has also notched a gain.
Below are some of Matsumoto's views, paraphrased from an interview this week in Tokyo:
Which emerging economy do you like?
From a medium- to long-term perspective, Brazil has some good potential. Should the new administration continue its stance of fiscal restructuring and pension reforms after the vote in October, that would be positive for the Brazilian real. If attention is paid to the nation's trade advantage, there's room for the currency to rebound
But for the shorter-term, we don't take a positive stance toward Brazil at this point, given the election uncertainties
What are your short-term picks?
The Mexican peso seems to be relatively steady in an environment in which emerging currencies will probably struggle to rise significantly
There's some more space to establish long Mexican peso positions, especially as the election is already behind
Emerging market outlook for the rest of 2018?
There will probably be some short-term risk-on periods from time to time -- similar to what we saw at the beginning of July
There are some areas where valuations look attractive and risks are relatively smaller, so there's opportunity to buy some of the currencies
Emerging markets tend to trade weaker in the second half due to some seasonality effect. November tends to be the worst month for them, with some funds closing their books
Turkey has a current-account deficit, double-digit inflation and quite strong fund outflow pressures. It's hard to aggressively invest in Turkey unless those factors improve, as well as looking at its political risks
Indonesia looks better than India
Strong growth in India is positive for its stocks and is good for the country in the long term. But nearer term it would lead to an expanding current-account deficit that weighs on the rupee
Indonesia's growth may be hurt by monetary tightening, though fiscal measures are probable in the run up to next year's presidential election
Bank Indonesia has indicated a solid stance to support the rupiah, and while both Indonesia and India have quite high yields, Indonesia's inflation is lower