Fed to Taper Bonds, Show Patience on Rates: Decision-Day Guide
The Federal Reserve is widely expected to announce the reduction of asset purchases at the conclusion of its policy meeting Wednesday, which Chair Jerome Powell will likely say is not a step toward raising interest rates any time soon.
The Federal Open Market Committee is all but certain to hold rates near zero after a two-day policy meeting and announce a $15 billion monthly reduction in bond buying from the current $120 billion pace, judging that the test for tapering has been met as the economy heals from Covid-19.
The panel will release a statement at 2 p.m. Washington time. No quarterly forecasts are published at this meeting and Powell will brief reporters 30 minutes later.
While acknowledging that elevated inflation has lasted longer than expected, Powell said on Oct. 22 that his baseline outlook remains for price pressures to abate as the economy reopens. "I do think it's time to taper and I don't think it's time to raise rates," he said.
Fed officials have said rate hikes won't be on the table until the bond-buying program ends, although investors are projecting more than two quarter-point increases by early 2023.
"There is one job in November and that is to smoothly get the taper underway," said Julia Coronado, president of MacroPolicy Perspectives. "They are going to want to sound calm and optimistic amid all of the noise in the economy. Powell has been at the epicenter of enough brouhahas over the balance sheet" that he will want to sound reassuring with a simple message.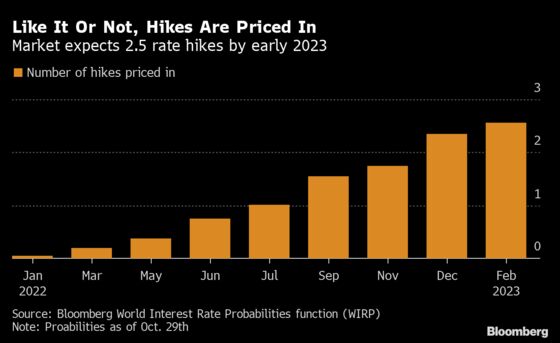 The committee is likely to say it has met its threshold of "substantial further progress" on both inflation and employment that were conditions for slowing bond buying.
The vast majority of economists in a Bloomberg survey expect the Fed to reduce its monthly purchases of Treasuries by $10 billion and mortgage-backed securities by $5 billion. That pace would wrap the process up by around mid-2022. But the FOMC is likely to include a caveat that it could speed up or slow down the taper in response to economic developments.
Powell will be at pains to separate the tapering decision from a signal that the Fed is in a hurry to raise rates, avoiding a re-run of the 2013 "taper tantrum" under then-Chairman Ben Bernanke, which caused damaging swings in financial markets. Powell was a Fed governor during that period and has repeatedly said that the lessons from 2013 have been learned.
"This is the most well-communicated policy change in recent Fed history," said Eric Winograd, senior economist at AllianceBernstein. "The only question that matters now is 'how long after you are done tapering will it be before you can raise rates?'"
What Bloomberg Economics Says...
"Given upside risks to inflation, and the fact that the new average inflation-targeting framework has already pushed back the tightening cycle compared to the previous regime, we believe the Fed will want to preserve its option to hike as soon as taper ends if inflation does prove to be elevated."

-- Anna Wong, Andrew Husby and Eliza Winger (economists). Click here to read the research
Committee members may revise the characterization in the statement of inflation from "largely reflecting transitory factors" to acknowledging it's lasting longer and has the potential to linger at high levels. Such a shift would reflect recent comments from Powell. 
One option would be to change "largely" to "partly" or to list drivers of inflation, according to Michael Feroli, chief U.S. economist at JPMorgan Chase & Co.
"They have backed away from transitory," said Vincent Reinhart, chief economist and macro strategist at Mellon and a former Fed director of monetary affairs. "To use the word transitory would come across as tone deaf."
While that change risks jolting markets, "if you are looking for a way to balance the risks against an overreaction, you change the statement to be a little more worried about uncertainties about the near-term outlook," Reinhart said.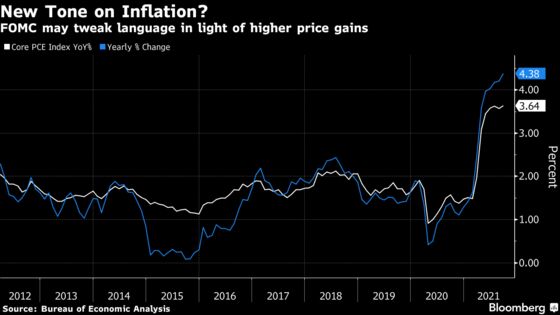 The FOMC may also tweak the statement to note that growth has slowed because of the delta variant and supply-chain disruptions, making the third quarter the weakest for U.S. growth during the pandemic recovery.
Powell faces a communications test to avoid the impression that tapering -- and a heightened concern over inflation -- will accelerate rate liftoff. He is likely to emphasize there are different hurdles for tapering and for raising rates and balance his concern on inflation with that over a labor market that is still not at full employment.
The chair will be pressed on under what conditions the FOMC may be prepared to adjust its tapering pace in response to higher inflation or a stronger labor market. Former Chair Janet Yellen, now Treasury secretary, once referred to balance sheet changes as being so predictable it was like "watching paint dry."
Markets will focus on "to what degree Powell stresses each meeting is 'live' to rediscuss tapering," said Thomas Costerg, senior U.S. economist at Pictet Wealth Management. "If he emphasizes that cuts are to be renegotiated at each meeting, I think markets will see a high risk that tapering could be accelerated in 2022, and that would automatically bring forward the first rate hike."
Economists are split on how long the tapering will last, with 51% expecting it to take eight months to complete, while 35% see a quicker close to the bond buying, according to Bloomberg's survey.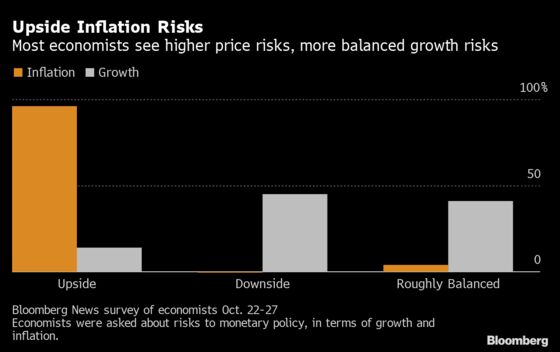 Powell is likely to be pressed about recent financial disclosures of stock trading last year by two Fed presidents, which have led to a new set of policies for senior Fed officials, as well as the departures of the Boston and Dallas Fed leaders. An investigation by the central bank's internal watchdog is ongoing.
The chair's handling of the matter, as well as his economic outlook, is being followed not only by investors but also the White House. Powell's four-year term as chair ends in February. Most economists expect President Joe Biden to offer him another four years at the helm, according to the Bloomberg survey. Fed Governor Lael Brainard, a Democrat, is seen as the most likely alternative choice.