Fed's Williams Is Eyeing Downside Risks Despite Solid Outlook
(Bloomberg) -- Federal Reserve Bank of New York President John Williams said he's more attentive to the possibility that the outlook will worsen rather than improve, even as he reinforced a message of confidence that the U.S. economy and monetary policy are in a "good place."
"From a domestic point of view, things are strong and continue to be strong, but we are dealing with these various global factors that we have to navigate," including slowing growth in Europe and China and uncertainties around trade, Williams said Tuesday at a financial markets conference in Washington.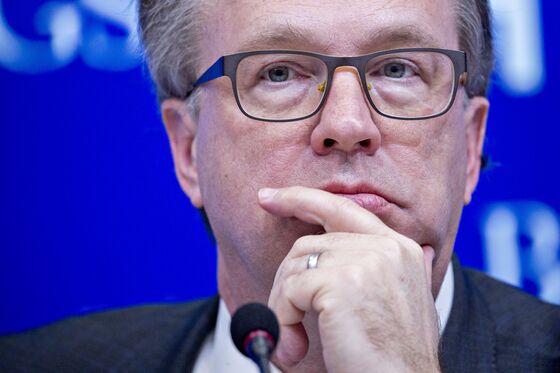 Asked later by reporters what could push the Fed to move rates in either direction, he said: "I'm definitely watching more for some of the downside kind of risks to the outlook now."
Fed officials cut interest rates last month for the third time this year to protect the U.S. economy from the risks posed by slowing global growth and uncertainty over international trade. Policy makers also signaled they will now keep rates on hold unless they see a meaningful deterioration or improvement in their outlook.
Chairman Jerome Powell, speaking Oct. 30 after the last cut, characterized monetary policy as being in a "good place," and that phrase has been repeated by several other officials including Williams.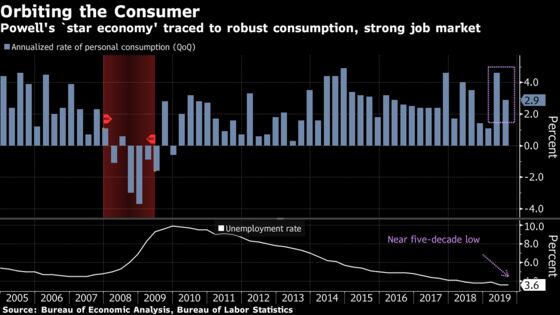 U.S. manufacturers and exporters have taken a hit this year, causing many companies to pull back on investments. Nonetheless, consumer spending has remained strong, keeping most forecasts for growth in 2019 at or slightly below 2%.
The New York Fed chief has a similar forecast, but expressed more worry over the possibility the U.S. economy could under-perform than over-perform.
"Are these global factors or other things causing the U.S. economy to slow more than expected and below trend growth? That would be an argument for somewhat more accommodation," he said. "Similarly, if inflation were to move in the wrong direction on a sustained basis, that would be an argument to consider more accommodation."
Williams made clear, however, he's not advocating any move in the benchmark federal funds rate.
"We've gotten the adjustment that we need, at least right now," he told the conference. "My outlook really is one of continued good growth, strong labor markets, inflation around 2%. Assuming that comes true, which is the baseline forecast, I think we have monetary policy in the right place."
Williams, addressing a conference hosted by the Securities Industry and Financial Markets Association, discussed a mid-September spike in overnight lending rates that forced the Fed to intervene. He said the Fed has calmed the market by injecting liquidity and is "very focused on year-end" -- a period when money markets traditionally experience higher strain.
He also rejected the notion that policy makers should revisit their decision to manage overnight rates through a system that requires abundant banking reserves.
"The fact that reserve levels are higher than perhaps we were anticipating doesn't fundamentally change the calculus that this is a very effective and efficient way to run monetary policy," he said.