Fed's Shift Eases Pressure on Asia's Financial Conditions
(Bloomberg) -- Financial conditions across Asia are getting easier, helped by a stock market rally, falling bond yields and a dovish policy shift from the Federal Reserve.
The Bloomberg Asia ex-Japan Financial Conditions Index, which moves inversely to financial stress in money, bond and stock markets, is at its easiest in four months. Last year, the index showed conditions at the tightest since 2015 amid rising interest rates and corporate borrowing costs and slumping stock markets.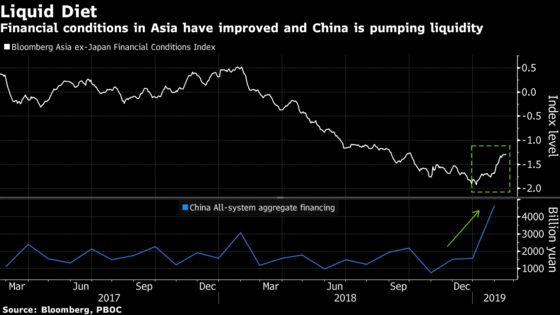 The shift is a relief for a region that accounts for more than 60 percent of the world's economic output and has been weighed by ongoing uncertainty from the U.S.-China trade war. The Fed's signal that its cycle of raising rates is on hold has given a green light to regional peers to do the same, with India even deciding to cut borrowing costs.
The MSCI Asia Pacific Index has risen almost 9 percent since Christmas Eve. Over $17 billion in funds' flows has headed into emerging Asian equities and some $3.3 billion into bonds over the first six weeks of 2019 as value-seeking investors return, economists at DBS Group Holdings Ltd. estimate.
Regional specific factors are also helping. China's credit growth exceeded expectations in January amid a seasonal lending surge at the start of the year, part of a government push to support the economy as growth slows. Aggregate financing to the real economy was over 1.3 trillion yuan higher than expected at 4.6 trillion yuan.
"Chinese authorities are working hard to push the financial industry to increase lending, especially to private companies," according to Wang Tao, head of China economic research at UBS Group AG in Hong Kong.
India's central bank delivered an unexpected interest rate cut earlier this month, backing up an expansionary budget unveiled by the government just a week earlier.
At the same time, borrowing costs for companies in emerging Asia have fallen to near the lowest in four months, indicating it'll be cheaper to refinance debt. The average spread on China's local corporate bonds has fallen 54 basis points from a high last May to 111 basis points as of Friday, the lowest since 2016.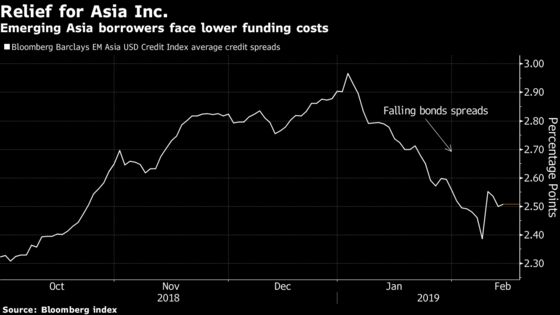 How durable the turnaround proves depends on whether or not the Fed resumes hiking rates-- and by how much. For now though, easier conditions and the dovish turn by central banks are proving a relief for firms across the region.