Fed's Quarles Favors Gradual Hikes, Eye on Potential Growth
(Bloomberg) -- Federal Reserve Governor Randal Quarles said he favors gradual interest-rate increases and voiced optimism that the U.S. economy might be able to grow faster without overheating -- potentially meriting a slower hiking path ahead.
In remarks Thursday to the Economic Club of New York, he suggested that a tick up in the economy's potential growth rate, if realized, could warrant a slower pace of rate hikes than would otherwise be appropriate.
Yet Quarles also suggested that inflation -- which has been low and stable -- could be a faulty guide for policy makers if it's taken on its own. As the Fed balances overheating risks with the possibility of stronger growth, he said it should continue lifting rates slowly.
"There is enough reason to think that the productive capacity of our economy might be increasing so that we should not feel compelled to accelerate our pace," Quarles said in the speech. "I also think there is enough doubt about current inflation as an infallibly reliable measure of current resource constraints that the continued gradual removal of accommodation is appropriate."
It was a rare economic analysis from Quarles, the Fed's Vice Chair for Supervision. He's a Donald Trump appointee who's been at the central bank for about a year, and in that time he's spoken mainly about financial supervision.
The president has criticized the central bank for raising rates despite still-low inflation. Quarles walked a middle line between his colleagues and Trump, laying out a case for why the Fed could move more slowly, suggesting that he's optimistic the administration's policy could boost growth, and defending Fed independence -- but also noting that it's not a historical anomaly for presidents to criticize the central bank.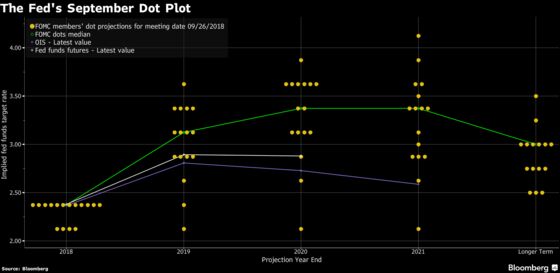 Fed officials raised rates by a quarter percentage point last month to a range of 2 percent to 2.25 percent and updated quarterly forecasts that showed them on track to hike again this year -- most likely in December -- and push rates to 3.4 percent by the end of 2020.
In a dovish signal, Quarles said that his "preferred path for policy is more gradual than I think many other people's because of my optimistic assessment." Responding to a moderator question, he said he thinks the Fed could nudge rates higher "for a period of time" without moving into restrictive territory.
The more the so-called long-term growth potential of the economy increases, "the more gradual we can be in our removal of monetary policy accommodation," he said in the speech. "An assessment of the pace of potential growth will be an important input into what I view as the appropriate path of policy to achieve our objectives of maximum sustainable employment and price stability."
Despite confidence that growth could move higher, Quarles was hesitant to risk letting the economy overheat. Though inflation remains near the Fed's 2 percent target, he said current price gain readings may not be a great signal of how strongly the economy is running.
"Perhaps inflation is just sending a signal of people's trust in the Fed's ability to meet its inflation objective," Quarles said. "There are risks in pushing the economy into a place it does not want to go if we limit ourselves to navigating by what might be a faulty indicator."