Powell Doesn't See High Recession Risk Though Eyeing Yield Curve
(Bloomberg) -- Federal Reserve Chairman Jerome Powell played down the signal being sent by a flatter yield curve and said the risk of recession was not especially high.
"There's no reason to think that the probability of a recession in the next year or two is at all elevated," he told a gathering of business leaders Thursday in Washington hosted by Rhode Island Senator Jack Reed. "We look at the yield curve but it's one factor. It's not inverted now."
Powell's remarks came a day after the central bank painted a rosy picture of the U.S. economy, raised interest rates for a third time this year and stayed on track to continue with additional gradual hikes next year.
The Fed chairman said the point of watching the yield curve was to gauge if monetary policy is too tight -- relative the neutral rate that neither speeds up or slows down economic growth -- and that "the risk in monetary policy is that you tighten too much."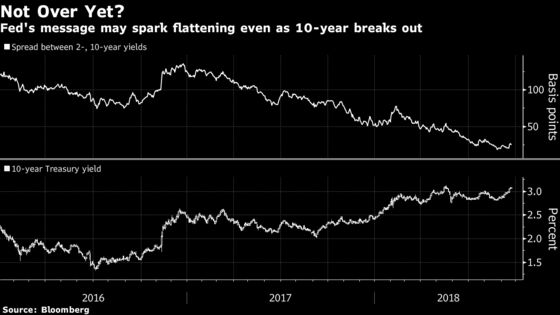 An inverted yield curve, when short-term yields rise above the returns on longer-term bonds, is seen by many investors as a reliable early warning signal. It has has preceded every U.S. economic recession in the past 50 years. And while the U.S. Treasury yield curve has not inverted, it has flattened. In August, the 10-year maturity's yield premium over 2-year notes shrank to the narrowest since 2007.
Powell, asked about how he viewed the risks of another asset bubble, said vulnerabilities were moderate and household balance sheets in good shape.
"Where we do see some buildup is asset prices are high, equity prices are high relative to their historical levels, not like a bubble, but high," he said. "But we monitor everything. We don't see high vulnerabilities but we are going to keep watching very carefully."