Fed's Kaplan Counsels Patience With Growth Expected to Slow
(Bloomberg) -- Federal Reserve Bank of Dallas President Robert Kaplan said that he'll be urging patience as the central bank moves into 2019 against a backdrop of slowing growth and no sign that inflation is taking off.
"I've had a lot of confidence that we should be moving along" but "at this stage, you're going to hear me be a lot more cautious and counsel patience," Kaplan said in an interview Thursday on CNBC. "Normalizing monetary policy was always going to be challenging, and I think we're in the stage of this process where you're going to hear me shorten up on prognostications."
Kaplan, who doesn't vote on policy until 2020, said uncertainty over tariffs and rising input costs that threaten to erode profit margins are both weighing on the outlook. He noted that Dallas Fed economists expect strong 2018 growth to fade into a more muted 2019 expansion as fiscal stimulus wanes. And because inflation has remained tame, he said that outlook merits patience.
"We ought to be very gradual and patient here, inflation -- in my judgment -- isn't running away from us," Kaplan said when asked if markets were over-pricing a coming rate increase at the Dec. 18-19 meeting of the Federal Open Market Committee. Federal funds futures pricing has indicated a hike is almost 70 percent priced in, though that's been headed lower in recent days.
Kaplan said he wouldn't comment on market pricing and was "not going to judge or pre-predict what we're going to do" but reiterated that "we ought to be patient."
Kaplan has been advocating a gradual rate path for some time, but his comments recently suggest he's taking a more cautious turn. His remarks come during a week marked by a selloff in stocks and an inversion in a lesser-watched portion of the Treasury yield curve.
The Dow Jones Industrial Average sank more than 400 points at the start of U.S. trading Thursday, while S&P 500 resumed its slide and lost 1.7 percent as of 9:31 a.m. in New York.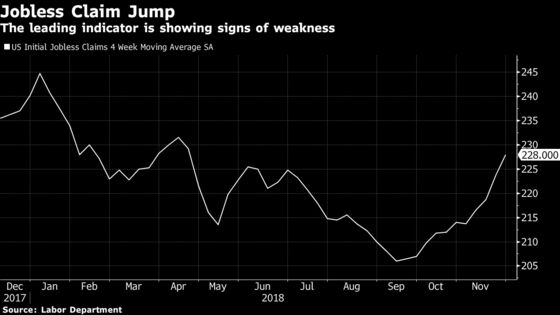 Just after Kaplan spoke, Labor Department data showed that initial jobless claims -- a closely-watched leading indicator of economic weakness -- came in above analyst estimates and had been revised up for the prior week, leaving the four-week average at its highest since April.
"One of the key tools we have as a central bank is patience" and "we ought to be using that tool," Kaplan said in the interview. "Right now, I'm just seeing a high level of uncertainty," and "it's a factor in my thinking."