Fed's Inflation Worries Will Pull Yields Down, Says Scott Minerd
(Bloomberg) -- Go inside the global economy with Stephanie Flanders in her new podcast, Stephanomics. Subscribe via Pocket Cast or iTunes.
The Federal Reserve's concern about the lack of inflationary pressures in the U.S. economy is stoking speculation that it will cut interest rates, which could send short-dated Treasury yields to the lowest levels of 2019, according to Guggenheim Partners LLC's Scott Minerd.
"The market is increasing its assessment that the next move by the Federal Reserve is going to be to reduce rates," Minerd told Bloomberg TV Wednesday. "All the commentary on the part of the Fed about the lower trending pace of price increases is going to fuel speculation that the Fed is going to cut rates and we are very likely to break through those lows."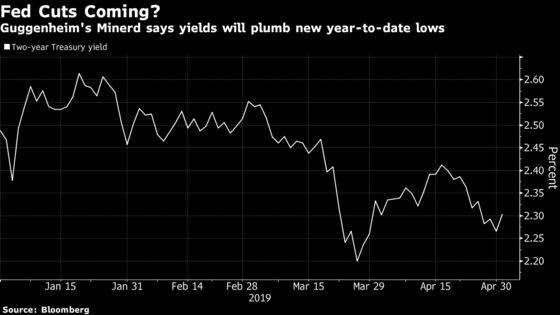 With the Fed's preferred gauge of core inflation edging further away from its two-percent target, Chairman Jerome Powell in his press conference reiterated his belief that inflation will rebound. Minerd is among those casting doubt on that assessment -- just days after the Guggenheim chief investment officer said it might be prudent to prepare, not for a cut, but for a rate hike.
Bond markets showed indecision in the wake of Powell's comments, with an initial drop in Treasury yields reversing as the chairman said there was no clear case for moving rates up or down. That came on top of ISM Manufacturing data on Wednesday showing a rapidly cooling U.S. manufacturing sector and Manufacturing PMI numbers from China that were just barely in expansion territory, reigniting concern that global economic growth remains fragile.