Fed's Patrick Harker Urges Go-Slow on Rate Hikes, Charles Evans Eyes Tightening
(Bloomberg) -- A strong U.S. economy warrants further interest-rate increases, Federal Reserve officials said Wednesday, though they differed on the need for another hike this year.
Central bankers are slowly raising borrowing costs to keep inflation in check with unemployment near the lowest levels since the 1960s amid no sign of a slowdown in hiring. U.S. businesses added the most workers in seven months in September, according to data released earlier, and economists polled by Bloomberg see the jobless rate falling to 3.8 percent when the next employment report is released on Friday.
"Getting policy up to a slightly restrictive setting -- 3, 3.25 percent -- would be consistent with the strong economy and good inflation that we are looking at," Chicago Fed President Charles Evans told Bloomberg Television in an interview in London, adding that he was comfortable with forecasts for another increase in 2018.
Philadelphia Fed chief Patrick Harker saw rates rising to around a similar level by 2021, but wanted the central bank to take its time in hiking to avoid inverting the yield curve.
"It's just a question of timing: for me, my forecast right now" is "three this year, two next year, two year after," he told Bloomberg Television in a later interview, adding that because he's not seen an acceleration in inflation, "I don't think we need to rush the normalization process."
Their remarks came on a busy day of Fed appearances, capped by Chairman Jerome Powell's moderated discussion at 4 p.m. in Washington. On Tuesday he reiterated plans to keep raising rates at a gradual pace.
Markets are responding to the rosy economic outlook. U.S. stocks headed to an all-time high, the dollar advanced and yields on the 30-year Treasury bonds reached the highest levels since 2014, touching 3.27 percent.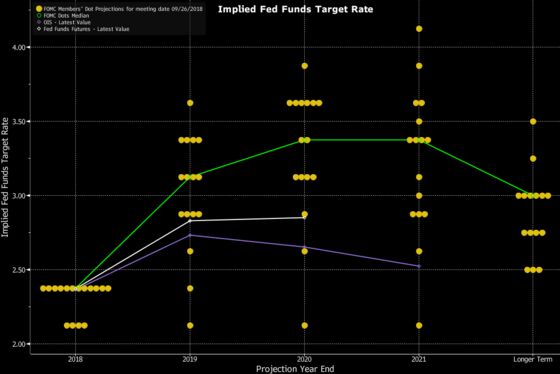 The U.S. central bank raised rates last week for the third time in 2018 and penciled in another move before year-end, based on an upbeat outlook for the economy that has unemployment staying low with inflation around its 2 percent target. Investors see a 77 percent chance the Fed will act at its December meeting.
"What do you accomplish by going sooner rather than later? Right now, I think there's good news in the economy," said Harker. "There's some risk I continue to worry about, with the yield curve -- an inversion of the yield curve. I'd like to avoid that risk. So I'd just like to slow the pace."
An inverted yield curve, when short-term yields rise above the returns on longer-term bonds, is seen by many investors as a reliable early warning signal.
It has has preceded every U.S. economic recession in the past 50 years. And while the U.S. Treasury yield curve has not inverted, it has flattened. In August, the 10-year maturity's yield premium over 2-year notes shrank to the narrowest since 2007.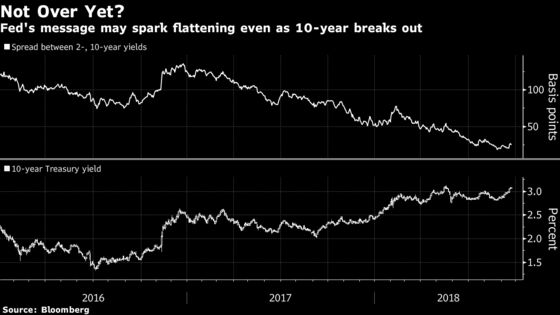 Thomas Barkin, president of the Richmond Fed and the third official to speak Wednesday morning, said he supported a path of gradual rate hikes but also cited the yield curve among the risks he was monitoring.
"Currently, many people are concerned about the compression of the spread between two-year and 10-year Treasuries," he told an audience in Charleston, West Virginia. "I respect the two-year/10-year spread as a signal. That said, I'm not inherently inclined to blindly follow the market's lead."
He also cautioned that uncertainty over trade disputes were making businesses more edgy than they had a few months ago.
"Businesses want certainty," Barkin said in an interview after the speech, adding that the trade dispute with China "is a big uncertainty."
Harker shared that sentiment. "People pausing a little bit on capital expenditure, just trying to let that uncertainty resolve itself. That, I think, is a concern."