Another Fed Official Backs Rates at Zero Until Inflation Tops 2%
(Bloomberg) -- The U.S. central bank should consider holding interest rates near zero until inflation is above its 2% target, said Philadelphia Fed President Patrick Harker, echoing his colleague Lael Brainard and signaling a consensus may be building among policy makers.
"We've been saying for a long time that the 2% inflation goal is symmetric, which means we should overshoot it. We were having a difficult time doing that, like all developed economies," Harker said Wednesday during a Bloomberg Television interview with Michael McKee. "I'm supportive of the idea of letting inflation get above 2% before we take any action with respect to the fed funds rate."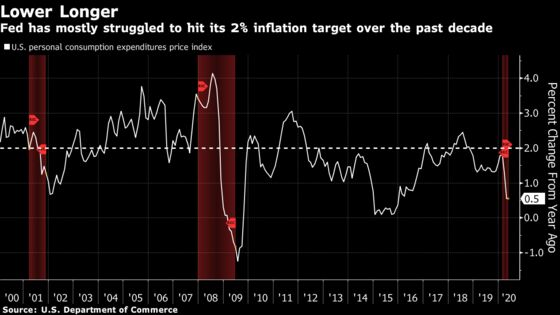 Fed officials left the benchmark policy rate near zero at their meeting last month and signaled they would probably keep it there through 2022, according to their quarterly forecasts. The rate-setting Federal Open Market Committee, which Harker votes on this year, next gathers July 28-29.
The Philadelphia Fed chief's comments "suggest growing momentum behind this view at the U.S. central bank and should continue to support risk appetite as investors look ahead to the coming Fed pivot to a new phase of monetary policy in which the FOMC will make longer-range commitments," Evercore ISI Vice Chairman Krishna Guha said in an email to clients following the interview.
In a separate move on Wednesday that underscores the international nature of the growing consensus around strategy, Bank of Canada officials announced they would hold their benchmark rate at the current setting near zero until they had "sustainably achieved" their own 2% inflation goal.
In the U.S., central bankers have rolled out nine emergency lending programs and ramped up asset purchases to ensure financial market function during the pandemic. Minutes of their last meeting in June showed officials had a wide-ranging discussion about longer-term strategies for supporting the economic recovery, including options for enhancing their guidance to the public on how long they would keep their benchmark overnight rate at zero.
'Refraining From Liftoff'
"Forward guidance constitutes a vital way to provide the necessary accommodation," Fed Governor Brainard said Tuesday. "Refraining from liftoff until inflation reaches 2% could lead to some modest temporary overshooting, which would help offset the previous underperformance."
Harker said his bank was in the process of revising its forecasts for the economy given the resurgence of coronavirus cases in the country's South and Southwest regions, and warned that a failure to extend enhanced unemployment insurance benefits when they expire at the end of month would further worsen the situation.
"There are things I worry about. One is a cliff effect of unemployment insurance," Harker said. "Yes, there is a need to get people back to work -- and people want to go back to work. But we can't just cut it off, because if we cut it off, people will stop spending and that will be a hit on the economy."