Fed Case for Fresh Action Gets Stronger on Soft U.S. Jobs Report
(Bloomberg) -- The case for more Federal Reserve action to support the economy was boosted on Friday by a "disappointing" November U.S. payroll report, focusing attention on its upcoming meeting as central bankers reiterated calls for more fiscal relief.
The figures showed that the labor-market rebound markedly slowed last month, indicating the surge in Covid-19 cases is hitting workers and curbing the broader economic recovery. That may push the central bank's Federal Open Market Committee to make changes to their bond-buying program when they meet Dec. 15-16 to discuss next steps for monetary policy, Fed watchers said.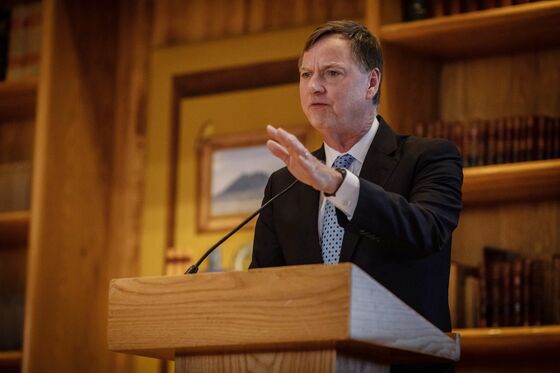 "This reinforces the case for action at the December FOMC meeting," said Michael Feroli, chief U.S. economist at JPMorgan Chase & Co. "I believe the most likely action is extending the average maturity of their Treasury purchases."
A bipartisan stimulus proposal endorsed by Democratic leaders as a basis for negotiations is luring increased interest from Republicans, raising the chances for a deal by year-end. The state of the economy, the fast emergence of vaccines, pressure from party moderates and President-elect Joe Biden's election all likely influenced the move by Democrats this week to embrace a smaller price tag for a package in the first real break by either side from long-held positions.
U.S. stocks climbed to all-time highs and Treasury yields jumped after the payroll report bolstered expectations for more federal stimulus.
The S&P 500 rose to a record for the third time in four days, the dollar headed for its biggest weekly decline in five, while the yield on the 10-year Treasury note reached the highest in nine months.
Chicago Fed President Charles Evans, speaking to reporters Friday following a virtual appearance at a Michigan Bankers Association conference, called the jobs report "disappointing," adding that the deceleration in job growth "is much too great at this point, and I think the virus outbreaks are part of it."
The Chicago Fed chief called for more fiscal relief from Congress. His comments were echoed by Minneapolis Fed President Neel Kashkari at a separate event Friday.
"Obviously many Americans are still out of work -- 10 million Americans -- and hopefully, a new fiscal package will be coming out of Congress to help small businesses and help families who have been directly affected," Kashkari said during a virtual appearance at the Rochester Area Chamber Economic Summit.
Evans stopped short of calling for more action from the Fed, saying policy makers would have a better idea in the spring about whether the central bank needs to make changes to its bond-buying program, which currently is purchasing about $120 billion per month of Treasuries and mortgage-backed securities across the yield curve.
But Evans also made clear he would be open to other arguments.
"I am comfortable with our current setting for asset purchases, and I would be comfortable with that presumably for the next several months, until we get to more clarity on what the economic situation is going to be," Evans said. "But, it sort of depends on the conversation, and I'm not opposed to more accommodation. I just am not exactly sure what the right timing is."
Officials at their Nov. 4-5 meeting talked about updating their guidance on the strategy "fairly soon," minutes of the gathering showed.
Fed officials enter their usual pre-meeting quiet period at midnight on Friday, meaning these are likely the last words in public on monetary policy from the central bank until the FOMC releases its statement at 2 p.m. on Dec. 16.
The remarks cap a week dominated by two days of congressional testimony by Chair Jerome Powell in which he was careful not to give a clear steer on what to expect at the upcoming meeting. But he did reaffirm his commitment to helping the economy endure the pandemic this winter, even as he highlighted a brightening outlook next year once vaccines are widely available.