Fed's Evans Says He's Comfortable With Prospect of December Hike
(Bloomberg) -- Chicago Fed President Charles Evans says he's "quite comfortable" with the prospect of another interest-rate hike in December.
In a Bloomberg Television interview in London on Wednesday, Evans, who has been among the more dovish Fed officials over the last decade, said that inflation data has improved significantly, and that he's fine with the expected path for rates implied by markets and the latest projections from the Federal Open Market Committee.
Investors are currently pricing in a more than 70 percent chance of a hike to 2.5 percent in December, which would be the Federal Reserve's fourth this year.
"Getting policy up to a slightly restrictive setting -- 3, 3.25 percent -- would be consistent with the strong economy and good inflation that we are looking at," Evans said. "We just submitted a summary of economic projections for the last FOMC and I believe the median dot was four rate hikes this year so that would indicate a high likelihood for one more this year. I'm quite comfortable with the expected path."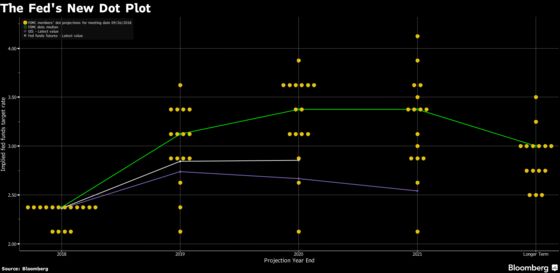 Evans also said that U.S.'s economic fundamentals are strong, and that "strikingly large" gains in jobs had pushed the unemployment rate only a little below a sustainable level. Permanent changes in tariffs as a result of the U.S. government's trade negotiations would hurt growth, he said, although the impact on inflation would be modest.
He spoke before giving a talk in which he said policy makers are discussing future frameworks and moving away from the effective lower bound.