Fed's Daly Says Too Soon to Change Rate-Hike Calculations
(Bloomberg) -- Federal Reserve Bank of San Francisco President Mary Daly said she is monitoring "eye-popping" inflation but it is too soon to judge if the central bank should accelerate its pace of policy tightening.
"Right now it would be premature to start changing our calculations about raising rates," Daly, one of the central bank's most dovish officials, said Wednesday during an interview on Bloomberg Television with Michael McKee. "Right now, uncertainty requires us to wait and watch with vigilance."
Fed officials are facing the sharpest acceleration in inflation in 30 years, even as millions of Americans remains out of work compared with pre-pandemic employment levels. U.S. consumer prices rose 6.2% last month, the fastest annual pace since 1990, cementing high inflation as a hallmark of the pandemic recovery.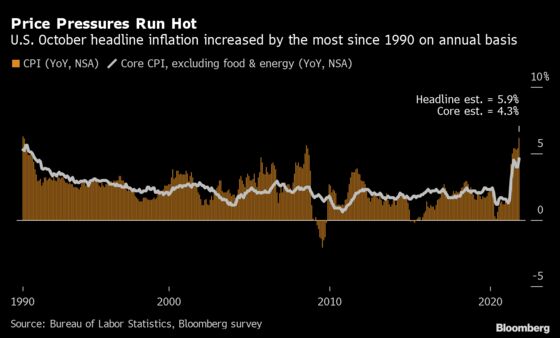 "Certainly we have a challenge right now. Inflation is high -- it's eye-popping -- and it catches people's attention and it hurts their pocketbook," Daly said. "The issue is that we still have Covid."
Daly said that supply bottlenecks and "extreme demand for goods" are the main contributers to higher prices.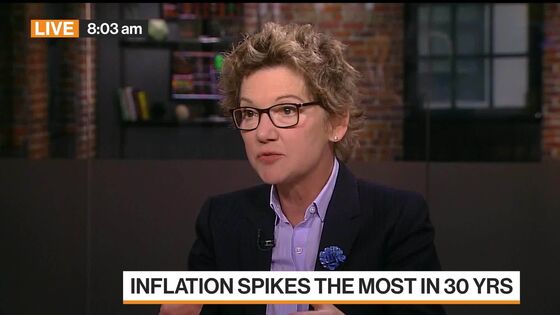 Inflation isn't expect to decelerate any time soon. Economists at Wells Fargo & Co. said in a note Wednesday that they expect the consumer price index to run over 6% through the first quarter of next year. 
"Along with fairly resilient consumer demand and a tight labor market that looks set to keep the heat turned up on wages, inflation seems here to stay for quite a while," Wells Fargo's Sarah House and Michael Pugliese said. 
Daly is a voter this year on the rate-setting Federal Open Market Committee. She and her colleagues agreed last week to being scaling back massive bond purchases and have separated the decision to taper from any signal on the timing of rate increases. 
Asked about whether policy makers should consider quickening the pace at which they taper asset purchases -- which puts them on track to wrap the process up around the middle of 2022 -- she said it was premature to consider that option.