Fed's Clarida Signals Fed Aim of Rates Rising to Neutral; Yields Fall
(Bloomberg) -- Federal Reserve Vice Chairman Richard Clarida said U.S. central bankers need to continue raising interest rates to a level that keeps supply and demand in balance in the economy, while keeping a close eye on slowing growth abroad.
"Certainly where the economy is today, and my projection for it and the Fed's projection of where it is going, I think being at neutral would make sense," Clarida said in an interview with CNBC Friday. "The global economy is something" the Fed has to pay attention to, he added, as there "is some evidence that it's slowing."
His remarks sent the dollar tumbling along with Treasury yields as investors interpreted his remarks as signaling he did not favor aggressive rate hikes. Policy makers have raised the benchmark lending rate three times this year, and futures markets are pricing in around a 68 percent probability of a fourth hike next month. The U.S. expanded at an annualized 3.5 percent pace in the third quarter on the back of strong consumer spending as unemployment dipped to the lowest level in 48 years.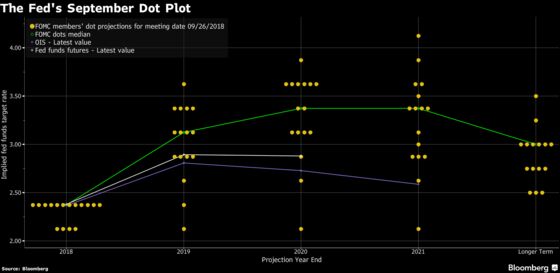 "He is saying we are still going to hike and we are getting toward an inflection point and we can see it coming," said Michael Hanson, chief U.S. macro strategist for TD Securities in New York. "The challenge is the market thinks it is happening now."
The Bloomberg Dollar Spot Index sank 0.5 percent and two-year Treasury yields dropped to the lowest since October following Clarida's remarks. The spread between December 2018 and December 2019 eurodollar futures, which represents the amount of Fed hikes being priced into the market for next year, fell to 35 basis points, the lowest in two months. It was above 50 basis points last week.
Clarida stressed that the committee is data dependent and will be watching the labor market and inflation for how far and fast it should raise the benchmark lending rate, now in a target range of 2 percent to 2.25 percent.
U.S. central bankers in September estimated the neutral rate, where policy is neither spurring nor slowing down the economy, to lie in a range between 2.5 percent and 3.5 percent.
"Currently the policy rate is below that range but as you can tell, it is getting closer toward the vicinity of that range," Clarida said.
The Fed vice chairman said he is optimistic about growth in U.S. output per hour and the ability of a strong labor market to draw in more workers. Both would raise the growth speed limit of the economy and potentially result in a higher end point for the current interest rate cycle.
"I believe that we have seen the bottom in productivity growth rates," Clarida said. "Put me in the camp of being an optimist on this. I think the legislation is one piece of that by lowering the cost of capital. I think there is innovation in the economy."
Strong U.S. fundamentals aside, forecasts for the euro zone are being notched down by private economists. Bloomberg's survey of private economists show estimates of 1.7 percent for 2019 and 1.5 percent for 2020.
"At least speaking for myself, that is something that is going to be relevant as I think about the outlook for the U.S. economy because it impacts big parts of the economy through trade and through capital markets," Clarida said.
On the other hand, he played down the potential signal that U.S. stock markets were sending about future economic growth following the steepest equity losses last month since 2011.
"Year to date, stock market is up and there is some volatility, so I think right now there is no clear signal that I would take from it.''