Fed's Daly Plays Down Inflation as Officials Warn of Virus Risk
(Bloomberg) -- Federal Reserve officials said the economy continues to be disrupted by the pandemic with one regional central bank chief dismissing the threat that inflation could get out of hand.
"I don't think that's a risk we should think about right now," San Francisco Fed President Mary Daly told a virtual discussion Tuesday. "We should be less fearful about inflation around the corner and recognize that fear costs millions of jobs." She is a voter on monetary policy this year.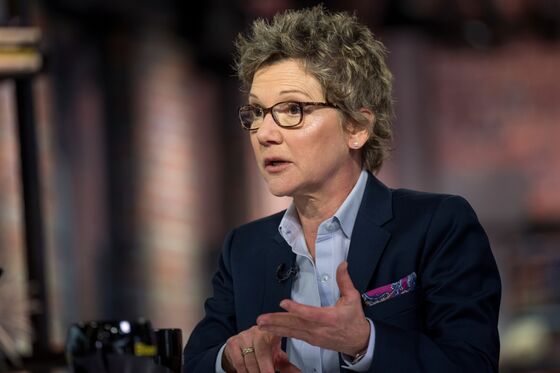 Some investors argue that ultra-easy monetary policy will spur runaway inflation. Daly's remarks were the latest dovish comments from the Fed to play down that threat -- a clear indication from policy makers that they are not thinking about reducing support for the economy as it recovers from Covid-19.
The U.S. central bank has signaled it will hold interest rates near zero through at least 2023 to help the economy rebound, while continuing massive bond purchases until it sees "substantial further progress" on employment and inflation.
Remarks from Fed Governor Michelle Bowman earlier Tuesday reinforced the message that this was off in the future.
"Even with a significant pickup in economic activity in the second half of the year, we still have a long way to go before the economy is back to its full strength," Bowman said. "While the official unemployment rate that was reported in January was 6.3%, if you add in these millions of people who lost their job or left the labor force, you'd get an unemployment rate that's really closer to 10%."
Her remarks closely echoed the cautious tone of Chair Jerome Powell in a speech he gave last week in which he urged a national effort to return the nation to full employment.
Fed officials have been at pains to stress they will not prematurely withdraw policy support amid an uncertain outlook, and that vigilance was also echoed by Kansas City Fed chief Esther George.
"The recovery so far has been both incomplete and uneven," George told a conference on real estate Tuesday. "As vaccination progresses and the virus is brought under control, we could see a further robust recovery in economic activity, likely by the second half of this year. That said, even as we recover, it seems clear that we are not going back to where we started."
George, who does not vote on monetary policy this year, also warned that there was a risk of financial instability from commercial real estate if economic support faded before the recovery became sustained.