Fed's Bostic Warns Consumers May Feel Hit on China Tariff Boost
(Bloomberg) -- Escalating tariffs on Chinese goods could push U.S. businesses to pass on these higher costs to consumers, said Atlanta Fed President Raphael Bostic, hours before a deadline set by President Donald Trump to raise them to 25% from 10% on $200 billion of products.
"There is a concern voiced by the business leaders I have talked to that says if we go to 25% on a broader set of goods, you are going to start to see that passed through into the consumer space,'' he said Thursday in New Orleans ahead of the 12:01 a.m. deadline. "The businesses I have talked to have said we are willing to forbear on 10%. 25% is a whole 'nother game."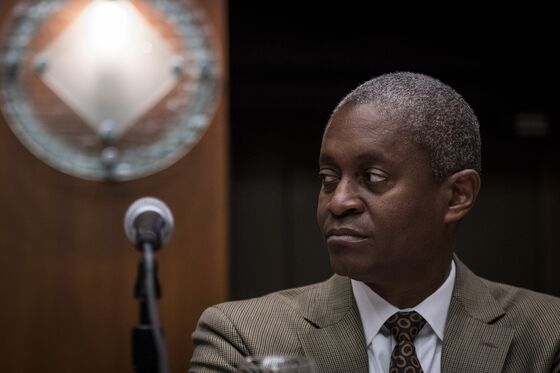 U.S. inflation has actually been too weak for the Fed's comfort, rather than too strong, persistently undershooting the central bank's 2% target and prompting officials to signal no interest-rate increases this year despite unemployment at a 49-year low. Concerns over too-low inflation have fanned bets the Fed will cut borrowing costs in the next 12 months.
That said, Bostic cautioned that the U.S. could be nearing a point where price pressures push inflation higher, citing the April producer-price report released earlier. Some economists said components in the report that are incorporated in the Fed's preferred inflation gauge, tracking personal consumption, were relatively strong and back up the argument that recent inflation weakness will prove transitory.
"I actually think we are almost to the cusp where we are going to see prices move," Bostic said. "We are starting to see signs of that. I think some data that came out today suggested that price pressures are a little hotter than they might be otherwise."
Speaking more broadly about why recent inflation has been weaker than expected, Bostic said better job searches from online career matches are making the U.S. employment market more efficient, which means that the jobless rate can go lower than economists estimate without sparking price pressures.
"Historically over the last 50 years, every time unemployment has fallen below what we call the natural rate of unemployment -- when you get too far below that, you start to see disruption,'' Bostic told a Louisiana bankers conference. " Are we seeing prices start to push up? Today we are not seeing that.''
Bostic said that the U.S. unemployment rate, which fell to a 49-year low of 3.6% last month, was about a point below some estimates of the long-run jobless rate. The Federal Open Market Committee's median participant put long-term unemployment at 4.3%. The Fed's preferred gauge of prices, less food and energy, slowed to 1.6% in the 12 months through March, while the headline number stood at 1.5%.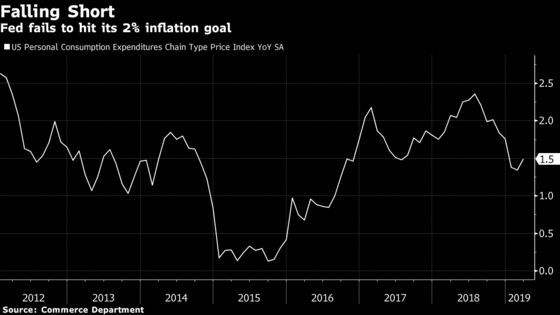 "You can apply for jobs over lunch on your phone now," Bostic said. "Talk to employers, they have all these technology algorithms to sort through much faster than they did before. So the amount of slack in the market -- the amount of excess in the market -- is smaller than it might be otherwise.''
Bostic said he recently went shopping at PetSmart to buy cat litter and the checkout automatically reduced the price to reflect an online comparison.
"I went to the checkout and they gave me a discount because they knew online was a different price. I didn't ask for it. These are downward pressures on prices.''