Fed's Raphael Bostic Says He Stands With Protesters Against Racism
(Bloomberg) -- Federal Reserve Bank of Atlanta President Raphael Bostic, the first black regional Fed president in the central bank's 106-year history, said he stands with the protesters who have demonstrated against racism and urged policy makers to work toward reducing economic inequality.
"As I have observed the protests against police brutality over the past few weeks, I have shared in the outrage of the truly horrific events that brought us to this point," Bostic said in an online essay Friday. "My first thoughts are for those who lost their lives and those suffering through these events in very real ways, and I stand with all those peacefully protesting for change."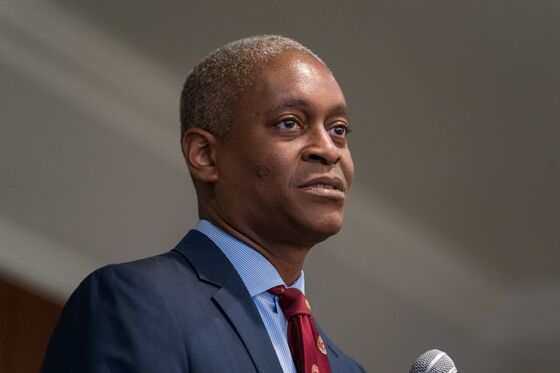 Bostic's comments echoed those of Fed Chairman Jerome Powell, who began a press conference Wednesday by saying "there is no place at the Federal Reserve for racism and there should be no place for it in our society."
Moral, Economic Imperative
The Atlanta Fed leader said there's a moral and economic imperative to end systematic racism and called for all Americans, especially white allies, to understand and confront the problem.
"A commitment to an inclusive society also means a commitment to an inclusive economy," he said. "Such an economy would represent a rebuke of systemic racism and other exclusionary structures. It would represent a true embrace of the principles that all are created equal and should enjoy unburdened life, liberty, and the pursuit of happiness."
Bostic called for policy makers to work toward reducing inequality and making economic gains more inclusive. His district includes some of the states with the largest black populations, including Mississippi, Louisiana, Alabama and Georgia. Several are also among the poorest states in the U.S.
"I believe the Federal Reserve Bank of Atlanta, and the Federal Reserve more generally, can play an important role in helping to reduce racial inequities and bring about a more inclusive economy," Bostic said.
The Fed's mission to promote maximum employment calls for "addressing the economic inequality that persists in this country," he said. "We have the ability and the responsibility to link economic mobility and resilience to broader economic health and to raise awareness among stakeholders who may not be fully attuned to the consequences of an inequitable economy. "
Bostic, the former assistant secretary of Housing and Urban Development in the Obama administration, became president of the Atlanta Fed in 2017. He previously was an economist at the University of Southern California, where much of his research work focused on housing and community development.