Fed's Bostic 'Ready to Act' to Cap Inflation With March Liftoff
Federal Reserve Bank of Atlanta President Raphael Bostic said the central bank may need to raise interest rates as early as March and start reducing its balance sheet "fairly soon" after liftoff to contain surging inflation.
"We are ready to act to make sure that inflation does not run away from us." Bostic said in an interview with Bloomberg News. "That is the most important message that people should hear when they hear me or any of my colleagues talk. We are paying close attention and we are going to do all that we need to make sure that the economy stays in a good place." The interview was conducted on Monday.
The Atlanta Fed president said he penciled in three interest-rate increases for 2022 in his forecast when the Federal Open Market Committee met in December and accelerated its bond-tapering plans, a move he supported. That was up from two hikes in the prior forecast in September. That reflects a growing economy, a fast-tightening labor market and inflation that has surprised to the upside, he said.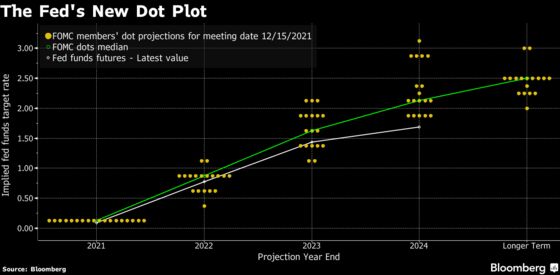 "If the numbers continue to come in the way they have over the past several months, I think a March liftoff would be appropriate," Bostic said. Based on trends on job creation and inflation, "we could start our liftoff of interest rates in the spring." Fed officials meet later this month. Their next meeting after that is March 15-16.
Fed policy makers believed a stronger economy and higher inflation could warrant rate hikes "sooner or at a faster pace" than they previously expected, according to minutes of their December policy meeting released Jan. 5.
Regarding the Fed's $8.77 trillion in assets, Bostic said "we should be comfortable and looking to reduce the balance sheet fairly soon after we do our interest-rate liftoff. The economy is in a much stronger place than it was during the last episode" when the balance sheet wasn't trimmed for nearly two years after liftoff.
He said policy normalization reflects upbeat trends in the economy, including employment growth likely to continue at "a solid pace" and the inflation rate averaging 2.7%-3% for the year, above the Fed's 2% goal.
"The trajectory of the economy is quite positive," he said. "Inflation has come back far stronger than I expected and that, coupled with the general strength of the overall economy, tells me that we are well positioned to pull back in terms of our policy accommodation."
Bostic said while employment remains more than 3 million below the February 2020 level, data and widespread anecdotes including rising wages suggest a tight job market. While many of those out of the labor force because of Covid-19 or child-care issues could return over the long run, the Fed can't ignore the short-term tightness, he said.
Despite uncertainty in measuring maximum employment, upward compensation pressure "sends a pretty clear signal that we have conditions that are conducive to a conclusion we are at full employment," he said. "I really think that this is a good time to move."
Bostic has been considered by the White House as a possible Fed vice chair for supervision, while former Fed Governor Sarah Bloom Raskin is viewed as the leading contender, according to people familiar with the matter. Bostic said he hasn't had conversations with the White House about the job.
"The White House will announce things when they do and we'll see if I have a decision to make in that regard," he said.