Fed's Barkin Sees Strong Economy, Not Near Tapering Assets
(Bloomberg) -- The U.S. economy is set for a strong 2021 as the pandemic recedes that will push up prices, but there's no sign yet that this will deliver unwanted inflation or a need to adjust monetary policy, said Federal Reserve Bank of Richmond President Thomas Barkin.
"We are going to see an extremely strong year and I think that strong year is going to lead to price pressures.," Barkin said Sunday in an interview on Bloomberg Television with Kathleen Hays. "I want to emphasize inflation is not a one-year phenomenon it's a multi-year phenomenon."
He said for unwanted inflation to take hold, expectations for future price increases would have to really move and begin to get factored into business decisions and wage bargaining. "We certainly haven't seen that yet," he said. Barkin is a voter this year on the policy-setting Federal Open Market Committee.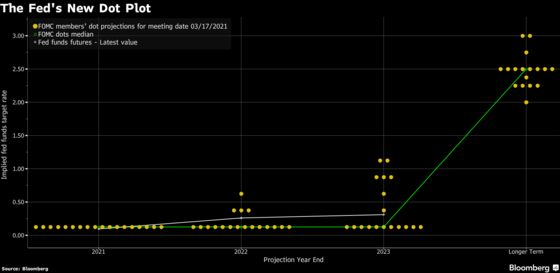 Fed officials left their benchmark lending rate unchanged last week and projected it would remain around zero for the next three years, even as inflation moves up and unemployment is forecast to falls to pre-pandemic lows by 2023. The central bank also committed to continuing to purchase $120 billion in assets monthly until there's substantial further progress toward meeting its employment and inflation goals.
In virtual comments Monday to the National Association for Business Economics, Barkin said he doesn't view the Fed as being close to the benchmarks needed to taper asset purchases. The Fed's preferred measure of prices was 1.5% in January, lower than the 2% annual goal. And Barkin cited a favorite measure for the labor market, employment as a percentage of working age population, at just 57.6% in February, up only marginally from December and sharply lower than 61.1% prior to the pandemic, he said.
''I would want to get a good part of the way there before having the conversation" about substantial progress, Barkin said.
The Fed expects that a bump in inflation this year will be short-lived. Officials projected their preferred measure of price pressures slowing to 2% next year following a spike to 2.4% in 2021. Excluding food and energy, inflation is forecast to hit 2.2% this year and fall to 2% in 2022.
"Our guidance suggests we would be raising rates were inflation to spike past our targets," Barkin said in his Bloomberg interview.
Massive fiscal support and widening Covid-19 vaccinations that will help reopen the economy have buoyed investor expectations for rate increases and inflation, propelling Treasury yields higher as the central bank and federal government keep adding stimulus.
Barkin said part of the reason that yields were moving up was because of the brightening outlook for the pandemic and the economy.
"Many of the days where there have been movements have been days where you've had really good news on the vaccines or really good news on fiscal stimulus," he said. "To the extent that yields are responding to the economy, I think that's what you want them to do."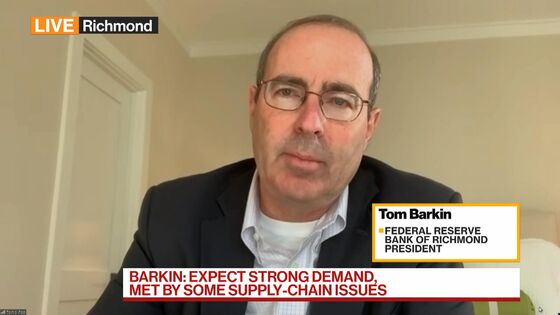 While the recovery should help people get back into jobs, there is concern that time spent out of the labor market could have a lasting impact on the workforce.
Barkin later told the Credit Suisse Asian Investment Conference the swift recovery from the pandemic-induced recession could limit the scale of economic scarring, but some sectors were still at risk.
"I still worry we will see scarring, albeit in new places. Covid-19 has hit primary caregivers particularly hard," he said, according to the text of his prepared remarks, noting that this burden fell especially hard on women. "We hope to support bringing more people in from the sidelines by maintaining accommodative monetary policy so long as inflation stays moderated."
He also noted that the pandemic had strained the nation's finances, fueling a record increase in U.S. federal debt.
"While there are no immediate signs of a U.S. debt crisis, we should be wary of diminishing our fiscal capacity to respond aggressively to the next crisis," he said. " Once the economy is on stable footing again, it will be important to take steps to get our fiscal house in order."