Fed's Barkin Plays Down Market Swing, Says Focus Is Real Economy
(Bloomberg) -- Federal Reserve Bank of Richmond President Thomas Barkin played down recent Treasury market volatility, in remarks that reinforce the message that the U.S. central bank is not yet troubled by the increase in yields.
"I'm mostly concerned about the labor market," Barkin said Monday in a Bloomberg Television interview with Michael McKee in answer to a question about turbulence in the bond market. "At these levels of interest rates, when I talk to businesses in my district, I do not hear any sense that people are dialing back their investment."
U.S. Treasury yields surged last week, with the 10-year yield reaching the highest in a year, as investors reviewed the outlook for a stronger economic recovery than expected and priced in a higher likelihood of future Fed interest-rate hikes. Vaccinations and fiscal stimulus have prompted economists to raise estimates for both gross domestic product and inflation.
"We obviously have control of the yield curve at the short end. And at the longer end when it moves it depends a lot on the driver," said Barkin, who is a voter this year on the rate-setting Federal Open Market Committee. "If the driver is -- as it seems to be -- news about vaccines, or news about health of the economy, or news about fiscal stimulus, then I think it's a natural reaction."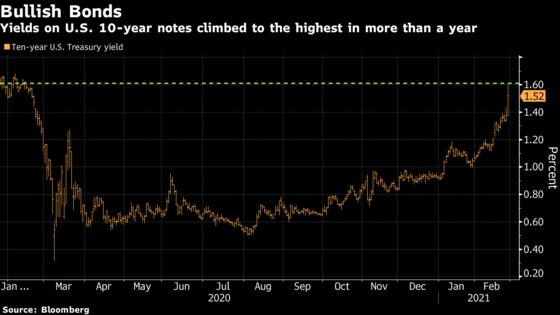 Several Fed officials last week also characterized the bond market upheaval as reflecting economic optimism, with Fed Chair Jerome Powell saying higher yields were a "statement of confidence" in the outlook.
Barkin said he didn't view the market move as a sign of persistent inflation and noted measures of inflation expectations suggested the Fed could miss meeting its 2% target on the low side.
"Inflation is a longer-term phenomenon," he said. "As I am speaking to businesses in our district I am not hearing a sense of overwhelming desire or intent to be escalating prices beyond normal levels."
Fed officials have stressed that they will not preemptively raise rates nor would they be bothered by a one-time spike in inflation later this year as parts of the economy reopen. Powell has estimated the U.S. unemployment rate remains at around 10%, adjusted for workers who have left the labor market, so the nation remains a long way from full employment.
Barkin said an outage last week of Federal Reserve systems that execute millions of financial transactions a day -- everything from payroll to tax refunds to interbank transfers -- was unlikely to reoccur. The episode follows two significant disruptions to the Fed's payment services that occurred in 2019.
Barkin said the failure was an operator issue that was internal but didn't go into details: "It got fixed and it's back up and running," he said.
"I don't think this one is going to happen again, that we have figured out," Barkin said. "These things do happen. Systems do click up and click down. I think we have addressed this one."
The outages affected the automated clearinghouse system known as FedACH and the Fedwire Funds interbank transfer service as well as several other systems comprising the U.S. payment infrastructure.