Fed Officials' Views on the Economy Have Converged: It's in a Good Place
(Bloomberg) -- Federal Reserve officials are getting their stories straight on the U.S. economy.
Cleveland's Loretta Mester says it's in a "very good spot," while Philadelphia's Patrick Harker says it "continues to do well." Or it's in a "pretty good place," as Kansas City's Esther George has it, faithfully echoing Chairman Jerome Powell's "the economy is good."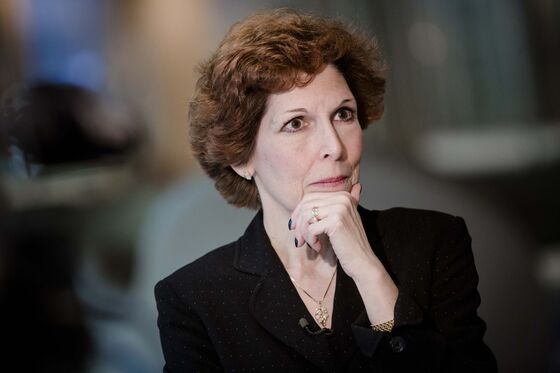 Their remarks, made Wednesday and late Tuesday, aim to reassure America that it can be confident in the economy and the central bank's commitment to keeping it on track. It's a message that has helped calm anxious investors and short-circuit a potentially self-reinforcing Wall Street sell-off that gripped markets late last year.
Policy makers in January backed away from raising interest rates while they assess how headwinds from a cooling global economy and tighter financial conditions affect their otherwise constructive outlook for continuing solid U.S. growth.
That pivot from a stance in December, where their forecasts showed two hikes in 2019, has eased expectations of further moves -- and the accompanying risk that the Fed craters the economy by tightening monetary policy too much.
Investors now see the central bank keeping rates on hold through 2019 with a possible cut next year, and officials are taking great care not to disturb that assessment, at least for now.
What Our Economists Say
Bloomberg Economics remains of the view that the terminal fed funds rate of the current cycle has not yet been reached and policy makers will need to resume moderate additional rate hikes following a multi-quarter pause.

-- Carl Riccadonna, Yelena Shulyatyeva and Tim Mahedy, Bloomberg Economics
"We have adopted a wait-and-see approach regarding future rate adjustments," Mester said in Lexington, Kentucky. "I believe that policy, for the time being, is well-calibrated to the economic outlook and the risks around that outlook."
While policy makers have signaled their next move could be up or down, their working assumption is that growth will be sufficiently strong to warrant rates going a bit higher -- just not any time soon.
"I have one increase for 2019, if everything performs as we expect it," said Atlanta Fed chief Raphael Bostic during a forum in Dublin. "We expect the economy to perform not as strongly as 2018, but stronger than its long-run trend."
Philadelphia Fed chief Harker had a similar outlook on monetary policy. "One rate hike for 2019 and one for 2020 are appropriate," he said in prepared remarks for a luncheon Wednesday, later adding: "I continue to be happily patient in my outlook on raising rates and will monitor the data as they come in."
U.S. growth was relatively strong in 2018 -- an estimated 2.9 percent according to economists surveyed by Bloomberg -- but is expected to moderate this year as the global economy cools and as the stimulus from U.S. tax cuts and government spending increases fade. Still, the labor market remains robust with unemployment of 4 percent near the lowest levels since the 1960s.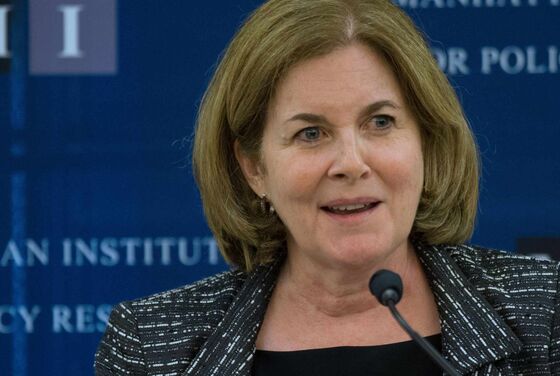 The central bank raised borrowing costs four times last year. Its policy rate, now between 2.25 percent to 2.5 percent, is close to the lower end of the range of policy makers' estimates of neutral -- the setting that neither slows nor spurs growth.
"If the economy performs along the lines that I've outlined as most likely, the fed funds rate may need to move a bit higher," Mester said. "But if some of the downside risks to the forecast manifest themselves, and the economy turns out to be weaker than expected and jeopardizes our dual mandate goals, I will need to adjust my outlook and policy views."