Fed Fuels Rise in Assets Via 'Derivative' of QE, Kaplan Says
The Federal Reserve's low interest rates, the perception that there is a high bar to future increases and expansion of its balance sheet are helping to lift asset prices, Federal Reserve Bank of Dallas President Robert Kaplan said.
"All three of those actions are contributing to elevated risk-asset valuations," Kaplan told Michael McKee in an interview Wednesday on Bloomberg Television. "And I think we ought to be sensitive to that."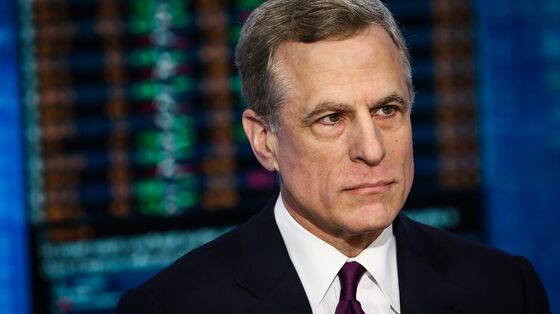 Kaplan's views contrast with those of many of his colleagues, who insist the Fed's resumption of purchases of assets is a technical change that has little or no effect on the value of asset prices. Chairman Jerome Powell has repeatedly referred to the plan to buy Treasury bills as "not QE," or quantitative easing, describing it instead as a response to turmoil in money markets that erupted in September.
Overnight rates spiked sharply after reserves in the system became scarce as the central bank gradually allowed its balance sheet to shrink. The Fed responded by pouring billions of dollars of additional liquidity into the market via repurchase or repo operations. It also resumed the growth of its balance sheet to permanently restore the level of reserves by announcing T-bill purchases at a $60 billion monthly pace at least through the second quarter.
"My own view is it's having some effect on risk assets," Kaplan said. "It's a derivative of QE when we buy bills and we inject more liquidity; it affects risk assets. This is why I say growth in the balance sheet is not free. There is a cost to it."
While the Fed is gradually reducing the scale of its overnight operations in the repo market, it has stuck with T-bill purchases at an unchanged pace.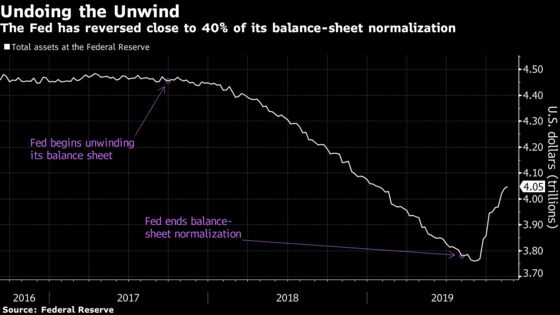 San Francisco Fed chief Mary Daly, speaking later on Wednesday in San Ramon, California, hewed to the company line when asked to explain why growing the Fed's balance sheet again was not the same at QE.
"The way to think about QE versus solving the repo problem and getting the reserves back up is QE is stance of monetary policy," she said. "This was just a plumbing exercise and by plumbing I mean we say we want to have an ample reserves regime."
Notwithstanding denials from the central bank, many analysts have drawn a link between resumption of Fed securities purchases and the steady appreciation of a range of assets. U.S. stocks have notched a series of record highs since late October, buoyed by Fed easing, as well as increasing confidence that President Donald Trump will call a truce in the trade war with China. The U.S. and China on Wednesday signed the first phase of what they've billed as a broader trade pact.
Fed to Limit Its Own Purchases of Individual Treasury Issues
Kaplan, a voter this year on the rate-setting Federal Open Market Committee, called for the Fed to be cautious with its expansion in the balance sheet.
"I think we've done what we need to do up until now. But I think it's very important that we come up with a plan and communicate a plan for winding this down and tempering balance sheet growth."
Fed officials left interest rates unchanged last month following three cuts in 2019, with most officials signaling they favored keeping them on hold through 2020 provided the economy stayed on track.
Investors see almost no chance of a rate cut in the next six months, according to pricing in federal funds futures contracts.
Kaplan said this year's election wouldn't affect his support or opposition to future rate changes, adding he is not currently forecasting any policy shift but "we've got to do what's right for the U.S. economy."
U.S. economic growth has slowed but remains respectable with unemployment at a 50-year low, though inflation has been under the central bank's 2% target for most of the last seven years. The most recent reading of its preferred gauge, minus food and energy prices, showed just a 1.6% gain in the 12 months through November.
Minutes of the Dec. 10-11 meeting showed officials still see some downside risks to their outlook for continued growth and were prepared to move rates up or down if there was a "material" change in their forecasts.