Fed Warns of Woes Spreading as Deadline Looms: Evergrande Update
(Bloomberg) -- The Federal Reserve warned that fragility in China's commercial real-estate sector could spread to the U.S. if it deteriorates dramatically, as investor focus turns to China Evergrande Group's biggest payment test yet. 
The Fed's stability report, which is meant to highlight risks that could undermine the financial system, said that "stresses in China could strain global financial markets through a deterioration of risk sentiment, pose risks to global economic growth, and affect the United States."
China's higher-quality dollar bonds are suffering their worst selloff in about seven months as property woes spill into the broader credit market. The high-yield market had dropped 12 of the last 13 trading days through Monday, according to a Bloomberg index, putting yields at 23.5%. Even state-owned firms are feeling the effects of the deepening rout. 
Investors are waiting to see if Evergrande makes coupon payments totaling $148.1 million for three dollar bonds before the end of 30-day grace periods Wednesday. 
While the developer has paid other overdue coupons at the tail-end of the grace period, its dollar notes remain at distressed levels. Creditors are bracing for an eventual debt restructuring that could rank among the largest ever in China.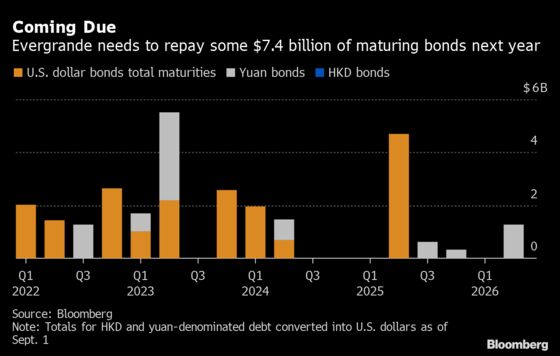 Meanwhile, holders of dollar notes sold by Evergrande unit Scenery Journey Ltd. had yet to receive payment for coupons that were officially due Saturday. The unit had two dollar bond coupons due Nov. 6: $41.9 million on a 13% note and $40.6 million on a 13.75% bond. 
Both of the coupons in question have a 30-day grace period before any missed interest payment would be considered a default, according to a bond prospectus. 
Shimao Says Unit Transfered Funds for Bond Interest Payments
China Cities Tighten Use of Pre-Sale Property Proceeds: Report
Some Chinese Property Developers Plan Interbank Bond Sale: News
Iron Ore Pounded by Property Stress as China's Boom Years Fade
China Developer Kaisa Cut Deeper Into Junk as Deadlines Loom (4:29 p.m. HK)
Chinese developer Kaisa Group Holdings Ltd.'s credit rating was cut further into junk territory by Fitch Ratings, which cited increasing risks that the company could default on dollar bonds. 
Kaisa's long-term issuer default rating was downgraded two steps to CCC- from CCC+. Its notes fell further Tuesday, with a $400 million security due Dec. 7 indicated at distressed levels of about 44 cents on the dollar.
China's Investment-Grade Dollar Bonds Slide Most Since April (1:49 p.m. HK)
Spreads on investment-grade notes from the nation's issuers widened about 8 to 10 basis points Tuesday, traders said. That would be the biggest daily expansion since April, according to a Bloomberg index.
China Property Stress Triggers Fed Warning as Bond Losses Spread (12:51 p.m. HK)
Now that a bond rout has spread to China's entire real-estate sector, concern is growing about the potential risk to the global financial system. 
The Fed made that link explicit in a report on Monday, warning that what happens in China's property industry could impact financial markets and threaten world economic growth. At the heart of the bond market selloff is concern that developers may have far more debt than disclosed on their balance sheets. 
Kaisa Dollar Bonds Decline Following Canceled Investor Meeting (12:20 p.m. HK)
Kaisa dollar bonds fell further Tuesday, after the developer said it would cancel a meeting with investor representatives. That's in line with declines in China's high-yield market.
China Dollar Bonds Extend Declines as Real Estate Notes Slide (10:11 a.m. HK)
China high-grade and junk-rated dollar bonds continued to struggle Tuesday morning, as developers' debt extended recent weakness. Junk notes fell as much as 2 cents on the dollar, according to credit traders, on pace for the largest decline in four weeks.
China's Euro Bond Return Seen Thriving Even With Property Crisis (9:42 a.m. HK)
The mounting property crisis in China isn't expected to be a deterrent to investors vying for a slice of the sovereign's rare euro debt.
China is set to open books on 4 billion euros ($4.64 billion) of new bonds across three tranches on Wednesday, according to a statement. The sale will be its first in Europe's common currency since last November and comes weeks after Evergrande narrowly avoided default.
HKMA Asks Banks to Report China Property Exposure, HKEJ Says (8:04 a.m. HK)
The Hong Kong Monetary Authority told banks recently that it would require them to disclose more details about their exposure to the Chinese real estate sector, the Hong Kong Economic Journal reported, citing unidentified people.
China Cities Tighten Use of Pre-Sale Property Proceeds (7:53 a.m. HK)
A growing number of cities in China have tightened supervision over the use of proceeds from pre-sale of apartments, according to a report by China Business News Tuesday.
Major cities including Beijing, Tianjin, Shijiazhuang as well as smaller municipalities like Suzhou and Nantong in the eastern province of Jiangsu, and Luohe in central Henan province have issued rules tightening oversight of the proceeds.
Goldman Snaps Up China Property Debt as Others Back Away (6 a.m. HK)
Goldman Sachs Asset Management is buying Chinese real estate debt -- even as other investors shy away. 

The firm has been adding a "modest amount of risk" through high-yield bonds issued by China property developers and denominated in U.S. dollars, said Angus Bell, a member of Goldman's portfolio management team. The market is overestimating the contagion risk, Bell said in an interview Friday. 
Kaisa to Cancel Investor Representatives Meeting on Wednesday (11:18 p.m. HK) 
Kaisa will cancel a meeting with investor representatives on Wednesday, citing public safety concerns due to the pandemic, according to a statement posted on its WeChat page late Monday. The company said its "total assets are worth more than its liabilities," adding that it has enough assets for the redemption of wealth management products. 
"Kaisa's cancellation of its meeting with wealth management product investors may indicate it needs more time to find funds to repay them," said Bloomberg Intelligence credit analyst Daniel Fan. 
Dollar bonds 
Coupon due date
Grace period ends

Amount

(million dollars)

EVERRE 9.5% due 2022
Oct. 11
Nov. 10
68.88
EVERRE 10% due 2023
Oct. 11
Nov. 10
42.5
EVERRE 10.5% due 2024
Oct. 11
Nov. 10
36.75
TIANHL 13% due 2022
Nov. 6
Dec. 6
41.93
TIANHL 13.75% due 2023
Nov. 6
Dec. 6
40.56
EVERRE 7.5% due 2023
Dec. 28
Jan. 27 
50.43
EVERRE 8.75% due 2025
Dec. 28
Jan. 27 
204.77