Fed Finds Race, Gender Disparities Cut U.S. GDP by $2.6 Trillion
(Bloomberg) -- Racial and gender disparities have resulted in growing losses to the U.S. economy that amounted to $2.6 trillion in 2019, according to a new study co-authored by Federal Reserve Bank of San Francisco President Mary Daly.
The study estimated economic costs from persistent education and labor-market gaps over time, finding losses have grown from $1.9 trillion in 1990 as the U.S. population has become more racially diverse. U.S. gross domestic product totaled $21.4 trillion in 2019.
"The findings should compel us to move with urgency to eliminate inequities both because it is the right thing to do and because it will be critical to maintaining global competitiveness," Laura Choi, vice president for community development of the San Francisco Fed, said at a Fed conference Monday.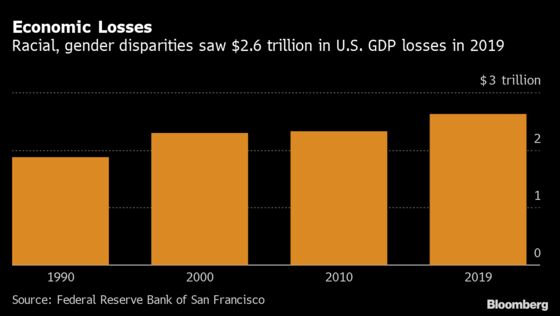 The conference, hosted virtually by four Fed banks, has been examining uneven outcomes in the labor market and is part of a greater focus by the central bank on bringing about a more inclusive economy with success shared more evenly.
The San Francisco researchers estimated the cost of racial and gender disparities, measured over 30 years, totaled $70.8 trillion.
"Achieving gender and racial equity is crucial to our shared economic future," Choi said. "These issues are becoming only more important as demographic shifts change the racial composition of the U.S. labor force."
Explicitly, racist policies like Jim Crow laws and redlining have had long-lasting effects on residential segregation and wealth accumulation for communities of color, Choi said, and there have been structural barriers for women in the workplace.
Minorities and women lag in their economic returns even when they have the same skills and education, according to the analysis.
"The gaps cannot be fully explained by observable measures of talent or skill, indicating that gender and race are still meaningful predictors of labor market outcomes," Choi said.
Addressing gaps is more urgent today in light of the Covid-19 pandemic, which has resulted in disproportionate harm to the labor market outcomes of women and people of color, she said.