Fed Downgrades View of U.S. Growth on Government Shutdown's Toll
(Bloomberg) -- The U.S. economy cooled in the first two months of 2019, with growth characterized as "slight-to-moderate" across most of the country in a Federal Reserve survey.
"About half of the districts noted that the government shutdown had led to slower economic activity in some sectors," according to the report released Wednesday in Washington.
The central bank's Beige Book economic report, based on anecdotal information collected by the 12 regional Fed banks through Feb. 25, said consumer spending was also held back by harsh winter weather and higher costs of credit. Manufacturing strengthened, but companies reported "concerns about weakening global demand, higher costs due to tariffs and ongoing trade policy uncertainty."
The report is likely to support the decision by many Fed officials to pledge patience on future interest-rate hikes amid a healthy, but slightly slowing, economic expansion.
In the last Beige Book, eight of 12 districts said growth was "modest to moderate," while Wednesday's report said 10 saw it as "slight-to-moderate" and two reported "flat economic conditions."
Multiple policy makers have recently backed away from their December projections for two interest-rate increases in 2019 after worries about global growth and the impact of four hikes in 2018 spooked financial markets. Minutes of their January meeting showed policy makers were divided over whether the economy may yet merit a hike later this year.
Most officials still predict growth of 2 percent or higher this year, but say that outlook may be threatened by risks related to China, Brexit and ongoing trade negotiations.
The report, prepared by the Kansas City Fed, said labor markets remained tight with "notable worker shortages for positions relating to information technology, manufacturing, trucking, restaurants and construction." The St. Louis Fed said higher education contacts reported falling enrollment as students increasingly chose to enter the work force.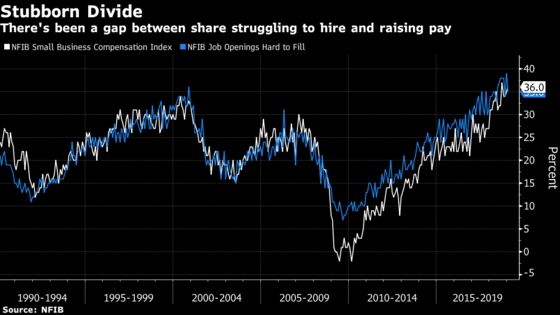 Despite the tighter labor market, a majority of districts reported moderately higher wages and "modest to moderate" gains for overall prices. The report said several districts noted faster growth for input prices than selling prices.
Tariffs were seen as providing continued upward pressure on prices in a few districts. Several regions reported, however, that the price of steel, previously affected by tariffs, "had stabilized or fallen recently."
The Labor Department's payrolls report Friday is forecast to show the pace of gains in nonfarm jobs eased in February. The prior report showed hiring jumped by the most in almost a year as the jobless rate rose to 4 percent, pushed up by the government shutdown but still near an almost five-decade low.
Consumer price increases have remained subdued. After excluding volatile food and energy components, the Fed's preferred gauge of inflation rose just 1.9 percent in 2018.