Fed Dots to Harden Views for December Move: Decision-Day Guide
(Bloomberg) -- The Federal Reserve is poised to increase interest rates for a third time this year as it publishes forecasts that are expected to bolster expectations for another move in December and a continued pace of gradual tightening in 2019.
The Federal Open Market Committee is almost certain to raise rates a quarter point at the end of its two-day meeting Wednesday to a target range of 2 percent to 2.25 percent -- the highest level in more than a decade.
The Fed will release its decision, policy statement and projections at 2 p.m. Chairman Jerome Powell holds a press conference 30 minutes later to discuss the outlook and can expect questions about political pressure after criticism from President Donald Trump.
"Some of the more dovish dots are likely to drift a bit higher, cementing the likelihood of a December hike," said Sam Bullard, senior economist with Wells Fargo Securities in Charlotte, North Carolina. "There is a growing consensus for further gradual tightening given the strong incoming data we have seen. They will feel confident about the rate projection."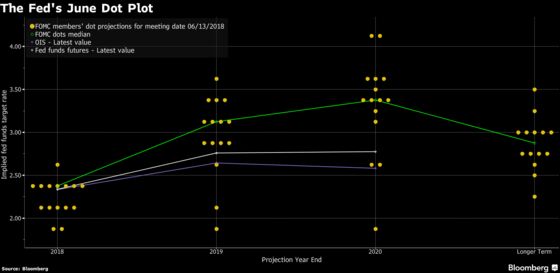 In June, the FOMC was nearly evenly divided, with eight participants favoring at least four hikes this year, while seven favored three or fewer moves. The balance is likely to become more lopsided this week. In addition, new Vice Chairman Richard Clarida will submit his view at the meeting after being confirmed by the Senate in August. That will up the number of dots submitted to 16.
Chicago Fed President Charles Evans, who has been among the more dovish Fed officials over the last decade, said on Sept. 14 "the data have been strong so I would not be surprised if it is four increases this year." He said at the time that he hadn't finalized his own forecast.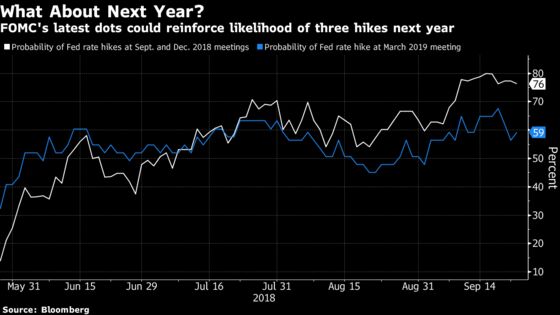 Governor Lael Brainard, who had also been a reliable dove but has recently sounded more hawkish, in September said the short-term neutral rate -- a rate that neither stimulates or restricts growth -- might have moved up with stronger growth. The FOMC in June forecast rates in 2020 at 3.4 percent, which Brainard pointed out was higher than the median long-term neutral estimate of 2.9 percent.
"You could well see some forecasts for 2019 and 2020 move up," said Diane Swonk, chief economist with Grant Thornton in Chicago. "It will be interesting to see how much the Lael Brainard view has permeated the governors, and that the neutral rate is moving up."
The committee will also give its first view of 2021, against the backdrop of warnings from investors and former Fed Chairman Ben Bernanke of an economic slowdown in 2020.
Forecasts for growth this year are likely to rise above 2.8 percent, reflecting strength in the second and current quarters. But the 2019 outlook is a closer call, and some FOMC participants could trim estimates if they are worried about growing trade disputes after the U.S. imposed tariffs on China.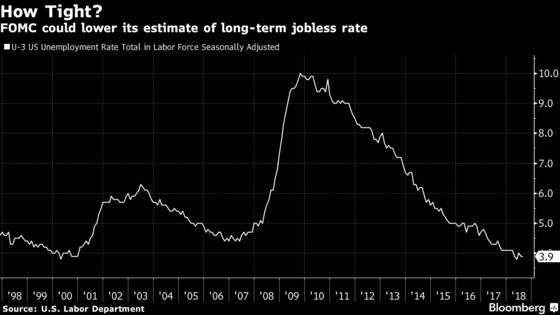 Participants also will debate how tight the job market is. Long-term unemployment rate forecasts could be cut from the median estimate of 4.5 percent, considering the jobless rate was 3.9 percent in August.
"There are reasons to believe it is a little bit lower," said Roberto Perli, a former Fed economist and now a partner at Washington-based consultancy Cornerstone Macro LLC. "If the Fed revises it lower, it would be a dovish development because it would signal the Fed might think the labor market is not as tight as people think."
Language from the FOMC statement describing the current economy is likely to be similar to the last meeting. Policy makers are close to their 2 percent inflation goal after undershooting the target for years, and are arguably already below the level of long-term sustainable full employment.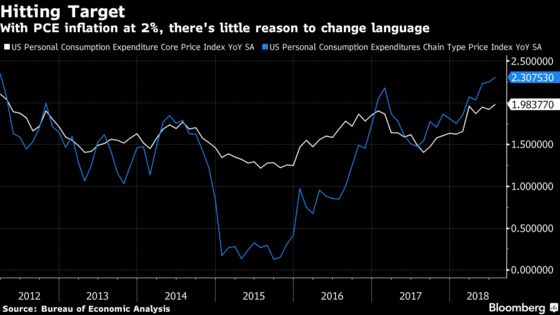 One change the FOMC is debating is modifying the description of monetary policy from "accommodative" to something closer to neutral, minutes of its last two meetings show. While such a change could suggest a possible pause in rate hikes, its impact might well be overshadowed by the dot plot.
What Our Economists Say
"The focus on the September FOMC meeting will be more directed toward signals regarding the future course of policy -- specifically the December rate decision -- rather than an almost certain rate increase at the current meeting. The actual tone of the meeting statement is likely to be little changed from the prior gathering."
-- Carl Riccadonna, Yelena Shulyatyeva and Tim Mahedy, Bloomberg Economics
"This could well be the meeting where they nix the accommodative characterization," said Jonathan Wright, an economics professor at Johns Hopkins University in Baltimore and a former Fed economist. "At some point the language is obsolete and doesn't have any value. You could remove the language or tweak it, and in the press conference, Chairman Powell could cite uncertainty" about a variable that is unknowable.