Fed Does Consider Impact of Policy on Emerging Markets: Quarles
(Bloomberg) -- The Federal Reserve is taking into account the effects its policies have on emerging markets, Vice Chairman for Supervision Randal Quarles said in Bali, Indonesia, responding to criticism that higher U.S. rates are having an unsettling effect.
"We do consider the implication of our own policy to emerging markets," said Quarles, speaking at a conference hosted by the Institute of International Finance. "The right response is for us to be as predictable, gradual about our policy as we can."
The Fed's tightening has caused strains across emerging markets -- most notably in Argentina and Turkey, but also in Indonesia as capital flows reverse. Officials from the southeast Asian nation and other developing economies have used this week's annual IMF meetings in the resort island to call for awareness of the strains they face as the era of crisis-level monetary settings across the developed world comes to a close.
It's not just emerging market officials who are grumbling: President Donald Trump on Thursday blamed an "out of control" Fed for the worst stock market sell-off since February but said he wouldn't fire Jerome Powell, his own pick for chairman. The remarks were a sharp escalation in his criticism of the Fed one month before congressional elections in which his Republican party is fighting to retain control of the House and Senate.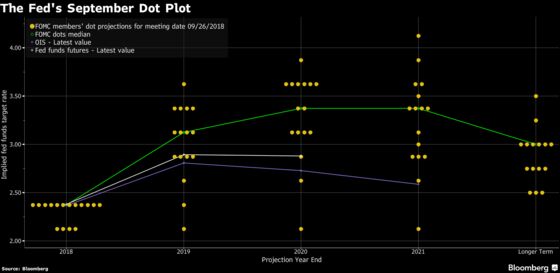 The Fed has raised rates six times since Trump became president in January 2017, including a Sept. 26 move that upped the target range for the benchmark policy rate to 2 percent to 2.25 percent. That range is still low by historic standards. Officials have penciled in another move this year, likely in December, and three more hikes in 2019. That's according to its dot plot of interest rate forecasts updated last month.
Despite headwinds from Trump's administration, which is critical of U.S. regulators' participation in international efforts, Quarles has been a prominent supporter of global agreements. He's said to be one of two favorites to be the next chief of the Basel-based Financial Stability Board -- a panel of regulators seeking to curb risks to the financial system.
On the panel discussion in Bali on Saturday, he said the FSB needs to focus on systemic issues, with cyber resilience among those. He noted complexities in how to deal with cyber risks and how to bring a system back in the event of an attack.
"The artificial intelligence and the technology transformation of the financial sector in general is the biggest challenge for the industry and therefore for regulators and supervisors," he said in Bali. "FSB's focus has to be on systemic issues that the industry faces, and cyber resilience is one."
Back home, Quarles is seeking to revise some of the key safeguards the U.S. instituted after the 2008 financial meltdown. Since his arrival at the Fed, the agency has proposed overhauling its capital rules and stress tests. And it's now working to ease up its supervision of all but the biggest Wall Street banks, overhauling how the Fed treats lenders that don't pose as much danger to the system if they collapse.
Another key effort during his watch has been re-writing the so-called Volcker Rule that restricted banks from investing with their own capital.
Quarles didn't rule out the need of "some forms of interventions" in future in the financial sector. "Policy makers have more options now" than the too-big-to-fail measures, he said. Foreign banks in the U.S. should plan for more relaxed buffers. "I'm a little worried that the Europeans are in the process of baking in a 90 percent level" rather than 75 percent of what's known as the total-loss absorbing capacity, or TLAC, he said.