Ruble Drop Points to Bigger Key-Rate Hike as Inflation Speeds Up
(Bloomberg) -- The ruble's recent weakness will push up inflation in the coming weeks, Russia's Economy Minister said, as pressure mounts for the central bank to deliver another large interest-rate hike at its next meeting. 
"This nervousness will clearly continue," Maxim Reshetnikov said Wednesday evening. "The exchange rate will be weaker and we will immediately see that in an acceleration of non-food inflation" and service prices, he said. 
A Russian troop buildup on the border with Ukraine has stoked concern about a possible invasion, spooking investors and triggering the ruble's biggest daily drop since March at the start of the week. Though Russia's central bank Governor Elvira Nabiullina was one of the first to tighten policy in emerging markets this year, inflation is still more than double the central bank's 4% target, adding pressure for another substantial hike on Dec. 17.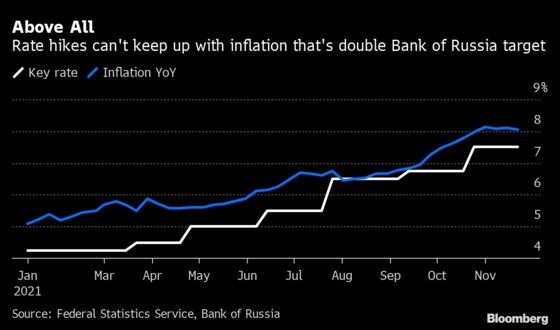 Weekly inflation readings are providing little sign of relief, with consumer price growth accelerating to 0.2% in the week ended Nov. 22. 
"The recent depreciation of the Russian ruble may provide an additional reason for Governor Nabiullina to hike policy rates significantly, given the importance of the FX channel in curbing inflation," said Goldman Sachs Group Inc. analyst Clemens Grafe. "There are significant and rising risks for a larger hike than the 25 basis points we forecast."
Last week, Nabiullina warned of "serious risks" of an inflationary spiral taking hold and compared Russia's situation to that of Germany and the U.S. in the 1970s. Kirill Tremasov, head of the monetary policy department, said the central bank will act "decisively" to cool inflation and is weighing "a wide range" of options for December's meeting.
Derivative traders are paying heed. Forward-rate agreements currently point to more than 150 basis points of tightening in the next three months. The central bank has raised rates by 325 basis points so far this year, delivering a 75 basis-point increase in October that was three times the size of the hike predicted by economists.