Better Service, Same Prices for Broadband Could Weigh Down U.S. Inflation
(Bloomberg) -- U.S. government statisticians are updating their methodology for measuring prices of residential phone, internet and television services in a way that could add to the forces weighing down inflation.
If the retail price of those services were to stay the same but the offering itself -- for example, internet speeds or the number of TV channels -- had improved, that would be recorded as a drop in the price index. January data on the Labor Department's consumer price index, due for release Wednesday, will be the first report to reflect the changes, which affect components that represent about 3 percent of the CPI.
The new so-called quality adjustments have Wall Street's attention given what happened in March 2017, said Omair Sharif, a senior U.S. economist at Societe Generale in New York.
At that time, statisticians made adjustments to the wireless telephone-services category to reflect the introduction of unlimited-data cell-phone plans by major carriers. That helped push the category's price gauge down by 7 percent in a single month, which was large enough to put a big dent in the overall CPI and hold down annual inflation for a year.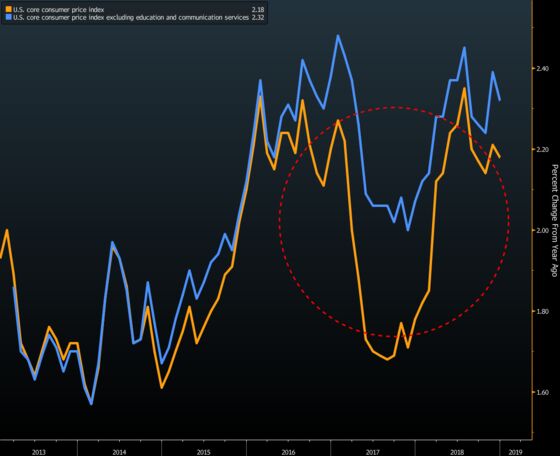 It was unfortunate timing for Federal Reserve policy makers, who were trying to restart an interest-rate hiking cycle on the premise that inflation was rising to their 2 percent target. They ultimately decided to look through the dip in inflation and keep raising borrowing costs.
A similar episode now could impact the policy debate. Fed officials don't foresee additional rate increases for at least a few months following a recent wave of volatility in financial markets and signs of slowing global growth. And they've justified the pause on the grounds that the lack of upward pressure on inflation gives them latitude to be more cautious.
As for the measurement changes, "there could be some modest downward pressure, but it should be nowhere near the 7 percent drop we saw in March 2017 with wireless," Sharif said. This time around, "it's not clear that we have seen any major industry shifts in terms of offerings in each of the three areas affected."