Turkey's Fallen Economy Czar Faults Erdogan's Virus Response
(Bloomberg) -- The man who's widely credited with shepherding Turkey through its two biggest crises in as many decades is warning the government's response to the coronavirus pandemic is falling short of protecting the economy from lasting damage.
Turkey needs a larger stimulus program that relies on fiscal spending instead of payment deferrals and a credit binge, said Ali Babacan, President Recep Tayyip Erdogan's former economy czar who's formed his own party to vie for power.
"There can be two kinds of mistakes in fiscal and monetary interventions: doing too little or too much," Babacan told Bloomberg as he weighed in on government strategies to ride out the economic storm. "But we're in such a period that the second kind of mistake is better. It's not very difficult to hit the brakes later if too much is done. But if the response isn't large and timely, the cost will probably be massive."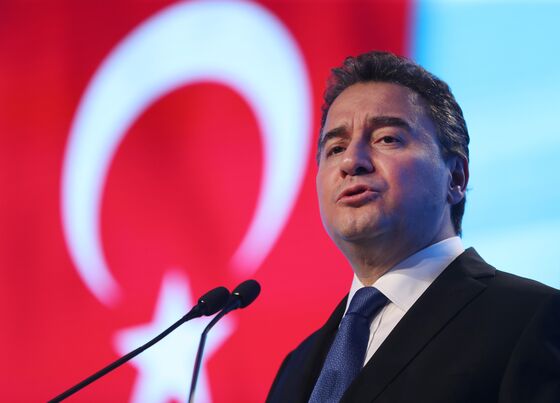 Babacan's interview on Monday night highlights his return to political life after establishing a new political party -- called Deva, or "cure" in Turkish -- but whose launch was largely drowned out by the outbreak. On the same day that Babacan made the official announcement, Turkey confirmed its first coronavirus case, and the disease has since consumed public attention.
Interview With Turkish Opposition Leader Ali Babacan: Highlights
But with signs that the pandemic is easing, party officials are beginning to establish a presence in Turkey's highly polarized and mostly pro-government media to get their message to the public.
Babacan, who used to be the chief policy maker in Erdogan's economic A-team, was gradually sidelined during the years leading up to 2015 -- when he last held a job in the cabinet -- for his repeated warnings that the economy is overheating and relying on domestic demand to boost growth.
Erdogan and a new group of economic decision makers who replaced the likes of Babacan have argued that excessively cautious fiscal and monetary policies prevented Turkey from realizing its growth potential and saw construction as a strategic sector to generate jobs and modernize an aging infrastructure.
A well-respected figure in global finance during his time in office, Babacan presided over a recovery program that saw Turkey's economy triple in size during the decade that followed the 2001 banking crisis that tipped Turkey into a deep recession. His prudent fiscal approach is widely credited for Turkey's success in escaping the global financial crunch of 2008 relatively unharmed.
To critics, however, there is a cautionary side to the same story. Long before Babacan and Erdogan fell out, a decline in Turkey's democratic standards set in, which he failed to publicly counter. It was also then that Turkey came to rely on consumption-driven growth while surging external imbalances increasingly left the economy exposed to shocks that haunt it to this day.
In his defense, Babacan said Turkish political parties' internal regulations don't allow dissidents to speak up openly, and he chose to advocate for the right policies behind closed doors instead of seeking political gains by going public.
"Until the end, I put on a big struggle inside," he said. "Maybe I didn't say everything. But everything I said, I believed."
Turkey's timely social restrictions have for now allowed the country to escape the worst of the pandemic while its modernized health-care system managed to cope even at the peak of new infections.
But the harm to the economy has been much harder to deflect, with large export markets in Europe shutting down and badly needed dollars from tourism drying up virtually overnight. The government has said that its assistance to the real sector and the poor is well targeted and will allow the economy to keep growing without eroding Turkey's macroeconomic fundamentals.
To Babacan, the government must unveil a significant fiscal intervention without running the risk of inflating prices while growth remains depressed -- a toxic combination that would be difficult to escape with the government's current stimulus program. Even Turkey's low sovereign indebtedness compared with other developing nations -- a key strength -- has been on the rise in recent years.
The size of the "fiscal impulse" needed to be higher at least by half, at 3% of gross-domestic product, and it shouldn't have relied on payment deferrals and credit incentives to support businesses, Babacan said.
Announcing the right package to mitigate the economic fallout is only half the task ahead.
Turkey also needs a medium-term roadmap for returning public finances to normal following the Covid-19 response, Babacan said. Any success will depend on policy makers' credibility, he said.
The International Monetary Fund won't be sufficient to meet Turkey's foreign financing needs even if the government were to request assistance, making currency swap deals with other central banks a necessity, Babacan said. But Turkey's increasingly bellicose foreign policy makes such an arrangement more difficult, he said.
"There is no such thing as exporting to countries we're quarreling with and asking for swap deals like nothing happened," he said.