Factories From Asia to Europe Suffer as Casualties of Trade War
Factories across Asia and Europe are increasingly feeling the brunt of the festering U.S.-China trade war that shows no imminent sign of ending.
Purchasing managers' indexes from some of the largest economies on both continents remained below 50 in July, signaling contractions in industrial output. Germany, the motor of Europe's growth, is mired in its worst manufacturing slump in seven years. A global measure showed a third consecutive decline in activity.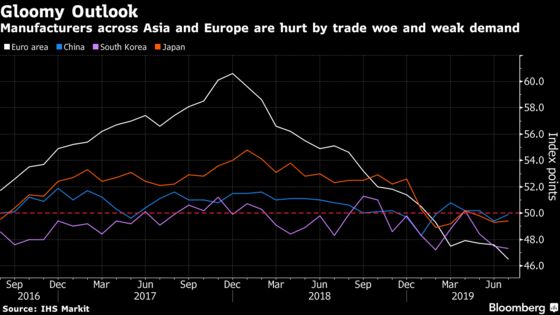 The deteriorating outlook forced Siemens AG, Europe's largest engineering company and a global exporter, to warn on Thursday that its sales target will be harder to reach. The gloom has prompted central banks from Asia to the U.S. to cut interest rates, with stimulus promised in Europe too.
"Central banks are easing monetary policy now -- that should help, but there's always a delay before that shows results," said Aline Schuiling, senior economist at ABN Amro Bank NV in Amsterdam. "Manufacturing may bottom out around the start of next year but there are a lot of risks."
In the U.S., IHS Markit's factory PMI was the lowest in almost a decade in July, while a separate gauge by the Institute for Supply Management also eased. Both signaled growth, albeit at a weakening pace.
Euro-area manufacturing shrank for a sixth month at the start of the third quarter, dragged down by Germany, the region's biggest economy. The downbeat figures follow reports showing slower growth in France, Spain and the euro area, with Italy stagnating.
While part of the weakness is linked to troubles in the automotive industry, a continued downturn could spell deeper trouble, and spread to other parts of the economy. As companies respond to falling demand, manufacturing jobs are being cut at the fastest pace in six years, prices are being lowered and optimism is deteriorating.
Germany's Schaeffler AG, a supplier to carmakers, this week cut its forecast and now sees revenue falling this year. Siemens said profit fell 12% last quarter, a sign that the car industry's woes and a more general economic malaise is reaching deeper into corporate Europe.
"Geopolitics and geoeconomics are harming an otherwise positive investment environment," said Siemens Chief Executive Officer Joe Kaeser.
Chinese companies, too, are lowering their expectations. Some 40% of the more than 1,600 firms to give first-half guidance predicted a drop in earnings from a year earlier.
What Bloomberg's Economists Say

"Indexes across many Asian economies -- on balance -- painted a weaker picture for the region than China, where yesterday's official PMI showed some signs of improvement. Manufacturing PMIs from several countries broadly stayed at weak levels, and one more country -- Indonesia -- fell into contractionary territory."
-- Chang Shu and Qian Wan
Click here for the full report
Monetary authorities across the world have been working to counter the slowdown. Australia, South Korea and Indonesia are among central banks that cut interest rates last month, while the Federal Reserve lowered its benchmark for the first time since 2008 on Wednesday. The European Central Bank is preparing action for September.
The International Monetary Fund last month cut its global outlook, already the lowest since the financial crisis, and warned about policy "missteps" on trade. A fresh round of negotiations between the U.S. and China ended in Shanghai Wednesday with little sign of progress. Both sides plan to meet again in Washington in September.