Exit From Negative Rates Is Looking Harder for Sweden's Riksbank
(Bloomberg) -- Will Sweden's central bank raise interest rates in December or February? The answer, much to the chagrin of those who have been calling for an end to negative rates, may be neither.
Headwinds are mounting for the central bank, with economic growth slowing both at home and abroad. Its counterparts around the world are unlikely to lend much of a helping hand. The European Central Bank is still far from its first tightening and the Federal Reserve is sounding less certain about the outlook for rate increases.
With additional clouds gathering on the horizon, the Riksbank risks having missed the boat or enact a replay from earlier this decade when it was forced to reverse a series of rate increases.
"Energy prices have started to decline and the krona gives only a temporary boost to inflation, which means the window is gradually closing for rate hikes," said Torbjorn Isaksson, an economist at Nordea Bank Abp in Stockholm. "And considering the weakness in domestic demand and the fragile housing market, it's very late in the cycle to hike rates now."
While Nordea still believes that a Riksbank "eager to hike rates" will do so already in December, it's also warning that this month's raise is "far from a done deal."
"And if there is no hike in December, then there is a risk that there will be no rate hike at all in the near term," Isaksson said.
Here are five key reasons why the Riksbank may not be able to raise rates:
1. Slowing Economic Growth
Sweden's economy unexpectedly shrank in the third quarter, the first quarterly contraction since 2013. And while many analysts said the development was mainly caused by temporary effects, all forecasters agree that growth has already peaked.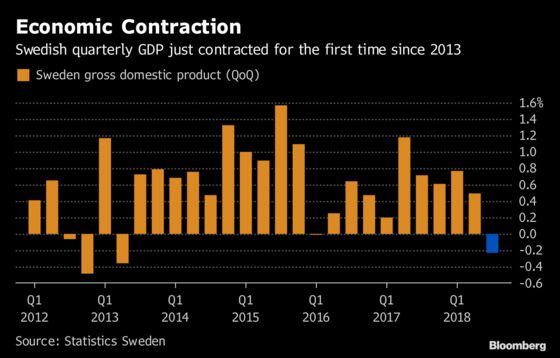 While the contraction didn't cause any major reactions in the currency markets, Swedbank AB strategist Par Magnusson says the central bank would break with its own historical pattern if it hiked now.
"Since the Riksbank's current monetary framework was introduced in the mid-1990s the Riksbank has never hiked when the latest quarterly GDP reading has been negative, at the same time as the core inflation rate" has been below 2 percent, he said.
2. Weak Underlying Inflation
The Riksbank's target variable -- CPI with a fixed interest rate -- has been close or above its 2 percent target for quite some time now, boosted by higher electricity prices. But that effect is likely to wane.
Underlying inflation, which excludes energy, has been lower than 2 percent and could make the bank reluctant to raise rates unless it rises as projected. Swedbank's Magnusson believes that unless it's above the Riksbank's forecast of 1.7 percent in November, the bank won't raise rates in December (the views are his own, not Swedbank's official view).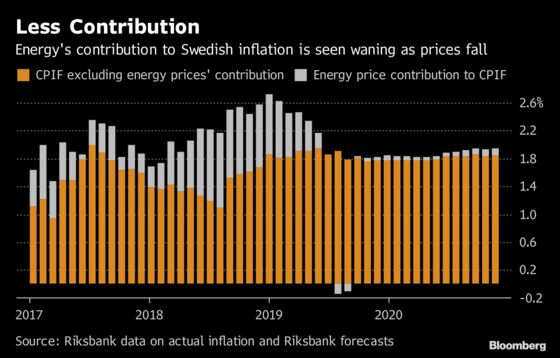 Sweden's krona, kept weak by the Riksbank's expansionary policy, has provided a boost to inflation but is now expected to appreciate.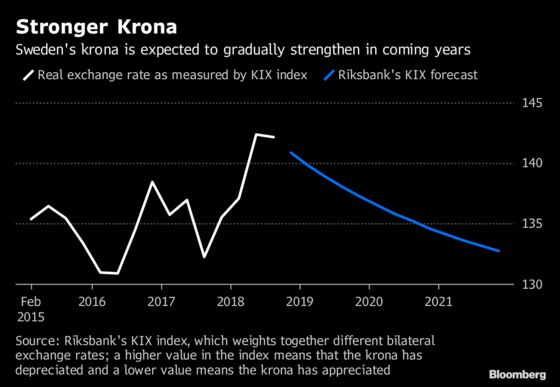 While unemployment has been on a downward trajectory, it's expected to start rising again. The Swedish Trade Union Confederation has even called on the Riksbank to postpone rate increases out of fear they may cool down the labor market.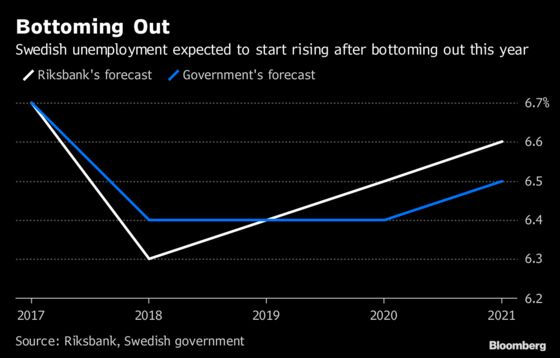 5. Household Indebtedness
Spurred by soaring home prices and record-low interest rates, Swedish households have been on a borrowing spree for decades. Private debt levels are at record highs, and the Riksbank needs to tread carefully with rates to ensure they don't hurt household finances and consumption.